Surprising Design Combinations That Work
Like cookies and milk, like Fred Astaire and Ginger Rogers, some combos are accepted – even expected. They're smooth. They "go."
But then there's pizza with ketchup on top. French fries with vinegar. Potato chips in chocolate. These happen to be combos that make eyes roll and the brave stop short, but boy can they be delicious. So straight from this Philadelphia designer's notebook, here are a few unexpected "Don't knock it until you've tried it" design tips that make for great interior:
5 Great But Unexpected Design Combos: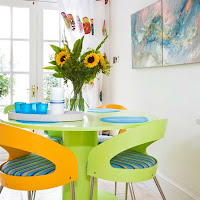 Strong color combos are great in teenage rooms. Don't hold back:  coral with fuscia; olive green with bright orange; turquoise and royal blue. To pull it off, I cut these with adequate doses of neutrals – from white, to tan, to black or brown. We do want those teenagers to be able to sleep!

Antique wood furniture mixed with Contemporary. Antiques ground a room, break it out of the "cookie cutter mold" and give a room it's authenticity and originality. Cut them with Pottery Barn or West Elm or Lee –  you pick the price point. Try just one in your home and watch what happens. Say yes to the Louis Ghost Chair with a vintage desk. Add Parsons chairs in a nubby linen to your mother's dining room table.
Shiny fabrics in a casual room. Splash silk or faux silk pillows against chenille, microfiber, or boucle upholstery. When I do this, I do like to add some brush fringe to warm the shine. Just a touch of shine in even a casual room adds light and movement.
Unexpected Fabric Choices. Use terry cloth to cover a small club, bench seat or fauteuille chair in a master bath. Try a totally graphic or contemporary fabric on a Louis style chair. The unexpected contrast on  a piece of furniture makes for greatness.
Unexpected Ceilings (ditch the flat white). When I do something unexpected on a ceiling, clients who at first raise their eyebrows at me eventually thank me. I just bead boarded a ceiling in a kitchen reno. Fabulous. I will splash color onto a tray ceiling. I've painted the wall color up onto a ceiling. I'll add trim at the border of a ceiling if I can't coffer.  Ceilings are important 6th walls – get out of flat white land if you can.
Have a question about a design combo?  Send it in. I'd love to comment on it for you – and so might your fellow blog readers!