Custom Window Designs – Come Join Me!
Well Peeps – I'm getting ready to head over to see a client in a short while to share with her one of my favorite things to share…window designs that I've rendered for her review – along with some snappy fabric choices for said window designs.
Times like these . . I love my job. 🙂 (Don't talk to me on book keeping and paper work day however….)
Now, I can't share these renderings with you yet – I won't publish renderings that a client has not yet seen, so I'll save these for another day. But in the meantime, here are some other wonderful renderings that another client recently saw and loved and will soon be having us get underway to build for her and her family. Here's what you're about to see:
Project Scope in a Nutshell:
Guest room for in-laws, who will be coming for an extended stay. When asked what color scheme they'd like in their room, 1/2 of said team requested lavender/purple for the room.
Now THAT – is a different choice! Super!
What a powerful and exciting color request. Nothing run-of-the-mill in that request…and thus one I felt we absolutely had to honor. When I articulated it this way to my client, she agreed. Her reservation? Oh, I forgot to mention. The carpet is celery green. No matter, said I – that the carpet in the room is brand new and is a celery green. Good design and savvy fabric choices would be where we'd find our solution to yet another Design Puzzle.
I promised my client that when we get done with this space, it will be elegant, quiet, restful….and will contain some delicious plum. Take a look at these 2 rendering choices (no time to upload the 3rd right now…sorry…but now you know she didn't pick that one!). Give me your vote….which design would you select and why? (notice in both designs I'm keeping the plum "off" the celery carpet…this is no accident….)
The color scheme for the whole suite will be vanilla and plum – with a splash of celery. See if you can guess which design option the client loved best. They are quite similiar and differ only in their flourish. (We had already selected these wonderful fabrics for her….) (Accurate wall color not shown…)
Option #1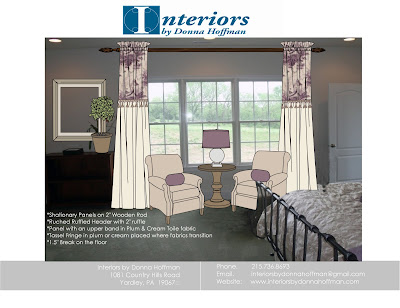 Option #2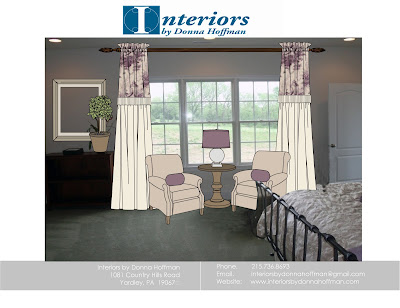 Look forward to hearing from you! And I'll do my best to keep you updated on the project status….the feature wall we're doing…all kinds of goodies…..