The Little Details That Make The Wow Effect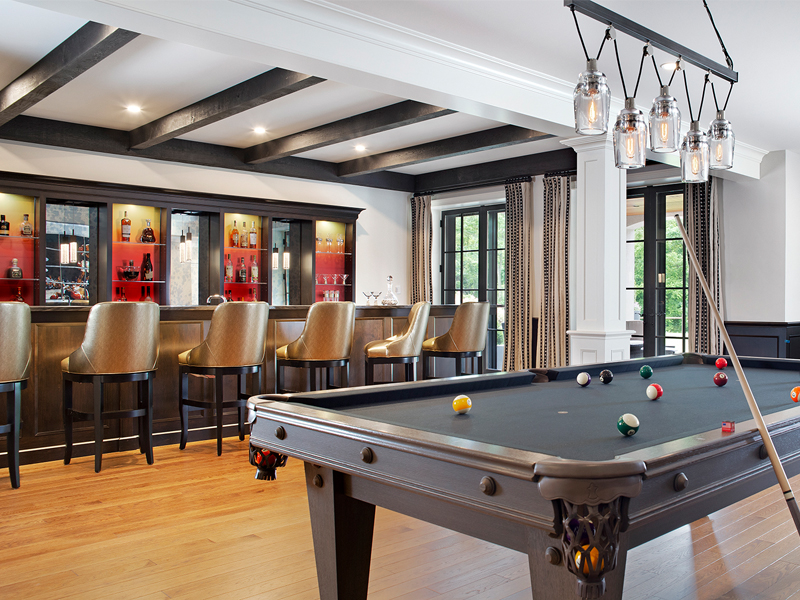 Some of the best parts of fine design, let alone our award-winning design, can be found in the details. I'm not talking about adding accessories to a side table or choosing a pair of lamps – although these are important too! Today, I'm discussing the larger-scale details, sometimes called "gesture" that you might overlook. Keen understanding of and affinity for these details really bring a room together and create a space that's sophisticated, elegant, and completely swoon-worthy. Here's a glimpse at how we do it.
Create Custom Pieces
One of the best ways to infuse a sense of luxury into a room is by creating custom pieces that you won't find anywhere else and pieces whose line or form add an exciting note in a space.  One of my favorite ways to do this is by adding unexpected elements to furnishings. Recently, I paired some gorgeous draperies with an attractive Greek Key design and custom-upholstered dining chairs that repeated that same design on the front and back. As a luxury interior designer, I can look at a pattern or palette and reimagine it in a myriad of ways to create a custom look. I see them in my mind's eye, based on what your space looks like and how you want to live in it, and then – my team and I make it happen. 
Establish a Rhythm
Color, texture, and line help establish a rhythm in a room. Adding even a clean band or simple flourish to an otherwise simple or solid fabric adds a sense of movement. Leather binding around the edge of a rug or a nail-head border on a stair runner aren't things that you'll see in retail design shops, but they're gorgeous features that seem so clear to me as a luxury interior designer. Details and rhythm go hand in hand. But the end result is always amazingly beautiful spaces that FEEL as wonderful as they look. THAT is rhythm at work.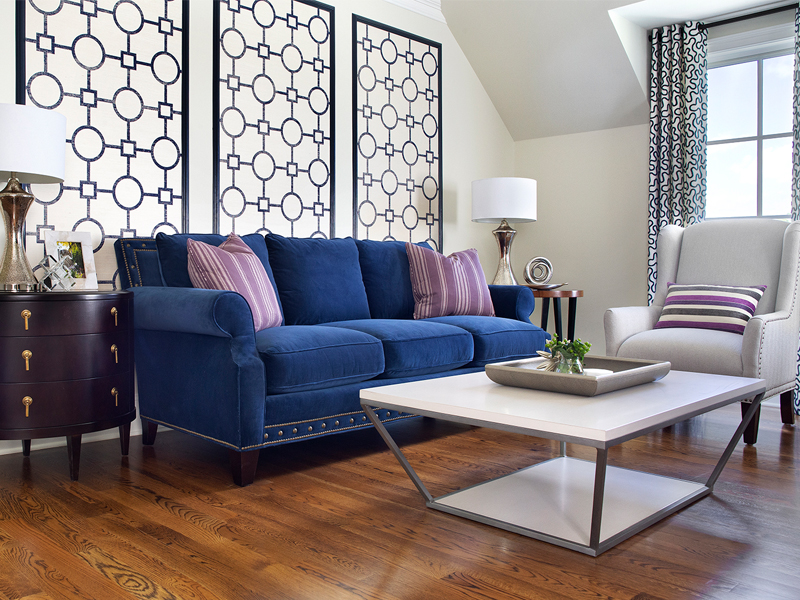 Highlighting architectural details such as wood beams, window casings, and vaulted ceilings can help inform a room's tone.  Shown here are statement wallpaper panels hung vertically behind a dark sofa to ground it against a white wall, and create interesting movement amidst the dormer windows in this small guest space. 
I use rhythm to make spaces as distinctive and as unique as the people living in it. It isn't something that can be mass-produced but instead needs a trained eye and skillset – something I've worked to develop for all the years of my practice.  There is strategy to the way I bring separate elements together appropriately and so that their wonderful sum is greater than their parts. 
Approach Details Strategically
As a luxury interior designer, my team and I  approach the details of a room strategically. For example, we know how to add or drop color when necessary. We can also always explain the design strategy behind every design move – the long term or short term payoff of any design move. 
Details that you might not think of are actually the first ones that come to mind for us. As an example, some people are surprised when I explain how powerful a location the center of the room is. A coffee table with a strategically selected accessory color element, done right, can be spectacular. 
But best of all, when you work with our luxury interior design team, you can expect that we will explore impactful details more effectively, delivering spectacular spaces, while saving you time, legwork, and sparing you stress during the process. 
If you're ready to invite our award-winning luxury interior design team into your home – whether it's a new build or a renovation – contact us today. We will take great care of you; we'll see things you don't or wouldn't as we take you to the design finish line you're after. And most certainly, we can't wait to meet you and get started!