Vintage Finds – Some Great Mid Century Modern at 63
Well my dear peeps – you may know by now that I love combing Lambertville for treasures….and chicken salad… 🙂 Hey…a girl's gotta eat.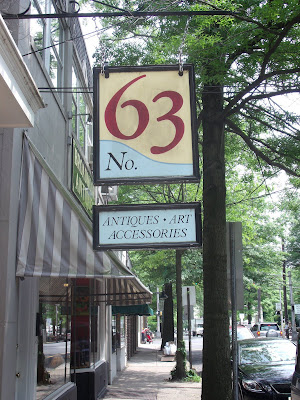 (And for the record…I did mis-state the name of the best-chicken-salad-in-the Universe found at a Lambertville resource in an earlier post…it's found at Ennis Cafe…sorry Sneedons.)
Anyway – on a recent Lambertville hunt….look at these marvelous finds to be found at "63" – a great little shop right on Union Street, Lambertville, NJ for great vintage, art, antiques and accessories.
63 is a neat resource. They have a larger NYC arm – and things regularly make their way down here…from way up there….and usually they find better pricing once they land in little ol' Lambertville. I understand there is a frequent rotation of goods too.
You'll find not only wonderful mid-century modern pieces…but just some unusual little finds…all the way to include great vintage handbags.
Did somebody say Hand Bags??
Well – since you couldn't join me in person…to include feasting on a succulent scoop of walnut and grape chicken salad with me for lunch (jealous yet?) here are a few photos for you. Wish my camera had cooperated for a few more that I took. And trust me…there was MORE!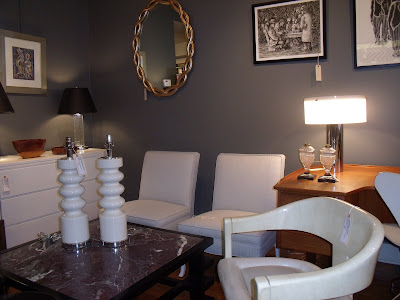 "Scroll" on down….
Pictured here: Some great mid century modern upholstery and lighting.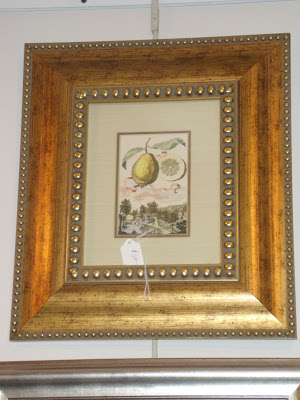 Seen here…not exactly new and exciting on this lemon print, but certainly a great little work-horse piece. And for about $50 if you're open to Vintage. (Aka…not necessarily something of great value….but in some cases, just pre-owned….)…what a great find…and it lacks the sterilty of the prints one often finds in Home Goods (yes…I do find things at Home Goods…but you need a good eye to succeed there…). Great condition on this print…and I couldn't frame this for a client at this price. Perfect for a little slip of wall in a kitchen.
And check out this super little wood carved barrel chair. For under a couple of hundred dollars, can you picture it in a luxurious spa bath as a great teak flavored accent? Try finding something like that at Ethan Allen….I think not.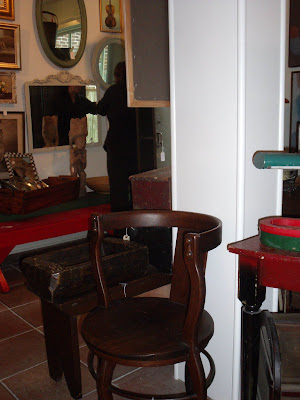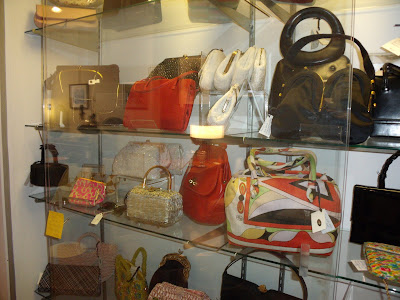 Ah…the vintage bags. Where are the smelling salts…I'm swooning.
Again I say to you Traditional Retail Store Shoppers…open those beautiful eyes and your fabulous thinking. It is the accents and objects in a room that give it its shape and flavor. (The bags…well…they're just there for yours truly to enjoy!)
So when next you're in town…head on over to 63.
10 North Union Street. Lambertville, NJ 609-397-2121