Design Tips for Organizing Home so You Feel Lighter
Cabin Fever is running high out here in the suburbs of Philadelphia.  Every design client is complaining about feeling cooped up, having cabin fever or just feeling blah as the snow piles up outside.  What a great time to pay attention to an another important part of our interiors….our interiors INTERIORS. Our closets and drawers.
As a design professional, I serve a wide cross section of people, working in a wide range of styles.  But I'm here to tell you that no matter the design style you prefer – excellent designed interiors must not only look great – they must function superbly. That includes…the way we store things.
Watch your enjoyment of your spaces improve exponentially when those same interiors function seamlessly – when perfectly functioning storage helps to make our interiors just "feel and flow right."  As a designer, I always think function and storage when I work with my clients – whether we're working on a dream kitchen or bath, the perfect master bedroom retreat or a luxury home office.  And so I offer these organizational design tips to you for organizing your home. Use them and you can feel lighter, think and function more clearly – and enjoy your home more deeply.
1. Cull Down Closet Clutter. Yes, always start in the closets first. You can't clear the clutter from counters, tables and chairs if you have no place to put things. Be brutal. Give it away or throw it out if its been unused for 2 years. Nobody wants your old Parcheesi set. Overall rule of thumb for closets: they are spelled 'c l o s e t'  not  'g a r b a g e   d u m p.' Too often, we cram closets as if they were trash cans. Closets are meant to hold our useful and important items. They are not black holes.
2. Drain the Drawers. After closets are done, distill and par down drawers so they are not stuffed. If you can't access what you need in a drawer quickly and easily….or file things away with equal ease, you are creating a 'frustration spot' in your home.  You're investing time and dollars to beautify your home with design…be sure to 'beautify' its storage, function and thus ease too.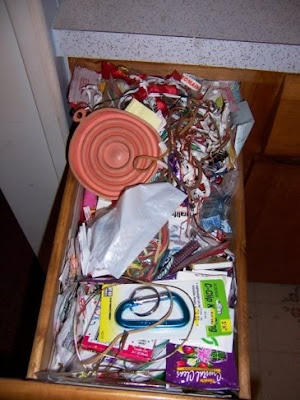 3.Strategize Storage. Part of great art of interior design is the ideal use and function of a space. Use design to support organization so that you design your storage so things are stored WHERE you use them. Don't store the candles and matches in the living room if you most often use them in the family room. Keep necessary items in or very near the area where they are used. You'll love the feeling of 'flow…"
4. Stop saving for a rainy day. How many colanders does a woman really need I ask you. Don't clutter up much-needed-kitchen-cabinet storage with 29 mismatched mugs. (When was the last time you served hot beverages to 29 people?) Planning to do a kitchen or bath reno ? This is the perfect time to distill, edit, par down, give away or toss.
5. Say Uncle. Sometimes, you just can't do it on your own…savers, this means you. If you find you are waiving the decluttering white flag…call in a pro. Most professional home organizers can blow through in a few hours what could take you a day or more to do. For $35-$50 dollars an hour – you'll get a good value and fine price to pay in exchange for your renewed peace of mind and space on the home front.
Release that old clutter and you may well find that as you clear out…you feel cleared up.