Maison & Objet Trend Report Pt1 – Interior Design Styles
As promised, we are providing our Maison & Object Design Trend report in a few blogs to break down the design trends that we observed, into a series of "bite sized" topics.
This bite will satiate all those looking to dig deeper into the over-all style trends that are trotting up over the horizon, set to make their way into the chicest decors!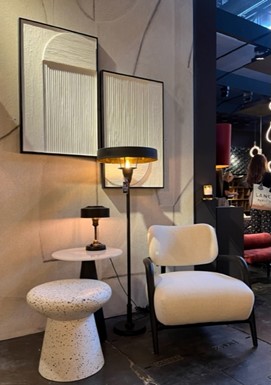 MID-CENTURY MODERN:
Ask yourself: has mid-century modern ever TRULY fallen off the trend wagon?
Answer: No. 😊 Once again, its omniscient footprint was spotted throughout this year's show. We are not implying that one would necessarily feel as though they had time traveled into Don Draper's living room, but you cannot deny the continued style influence of that era.
We postulate that its enduring relevance is due to its perfect marriage of the curve, to the straight line. At Maison this year, curves reigned supreme, (a topic that we explore in more depth in a later blog)….but the straight line continues to provide the perfect complement to those sumptuous curves.
We were tickled by the re-emergence of risk-taking prints that have come back to play! Wallpaper is back, and not simply reserved for a dynamic powder room or the (heavily used) accent wall. No longer benched, joyful patterns sprang back into the game, adorning every wall of the rooms for an impact that was nothing short of exuberant.
BOHO:
Bohemian looks also joined the party with lots of embroidery showing up on everything from decorative pillows to window treatments.
Felted wool lamp shades added whimsy to sleek, metal light sources. Imaginative "critters" such as puffy little sheep, wearing genuine pelts, tucked playfully into otherwise buttoned up décors, providing the perfect touch of unexpected humor. Tassels are back and definitely having their moment, accessorizing everything from the window treatments to lamp pulls.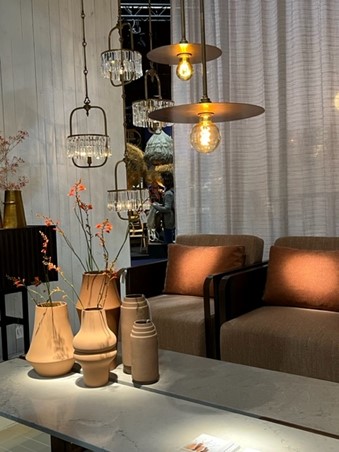 MODERN:
Sleek modernity is still very much apparent, but with less severity and not within a "modern-only" vacuum. Trending, is more room for added antique elements, resulting in much more curated looks – as we predicted from noting such elements while visiting the NYC Kips Bay Showhouse 2 years ago.
Akin to how the lines or shape of furniture undulate between the curves and the linear, the paradox of the antique in an otherwise modern décor adds immediate dimension to the space.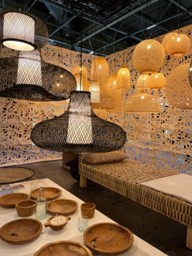 ORGANIC:
Mother Nature had a huge influence in this year's show. Rattan was everywhere: furniture, light fixtures, rugs, you name it.
Linen was the textile of choice. Matte earthenware dotted endless decors. Natural wood finishes devoid of any shine were at the forefront. We loved the sense of calm inspired by these softened touches and are eager to lean into that comfort.
Stay tuned for Part 2 of the Maison & Objet Design Show, where we cover the latest color trends!