Kitchen Design Trends for 2020/2021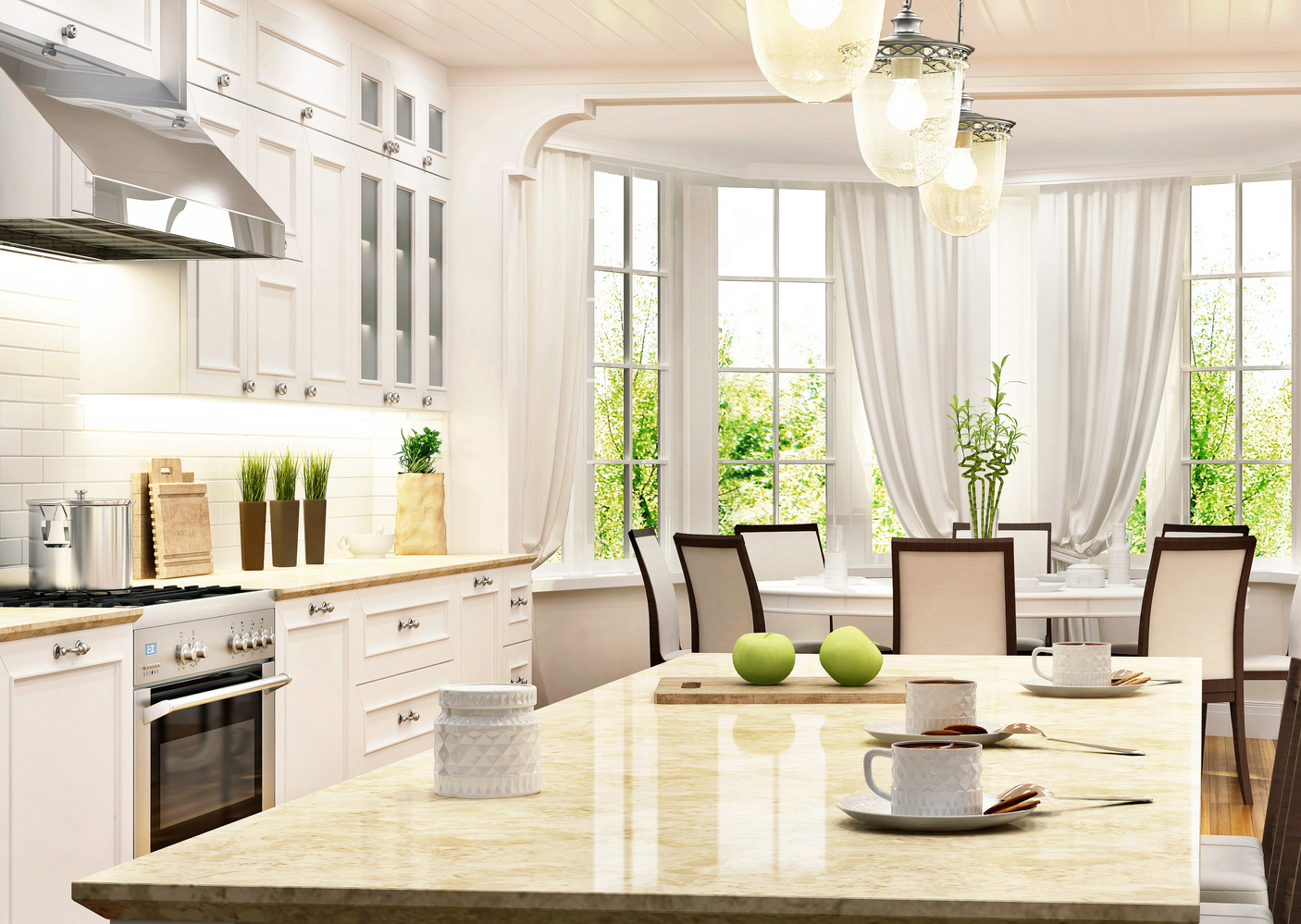 I LOVE a good Kitchen Design Trend report. (Doesn't everyone??)
This year, I decided to add an additional voice other than just my own by interviewing one of my favorite, super talented, kitchen design experts and industry girlfriends.
You're gong to hear from Kim Price, head of Bucks County Cabinetry & Design.
What's On Trend for 2020/21: Movements and Door Styles:
DH: Kim, tell me, what are some of the key trends you're seeing for 2020 and 2021?
KP: You know, I will tell you honestly that for fun I also asked my team and we're all in synch on these.
First of all, we're seeing a great mix of metals and materials. Very exciting. We're seeing honey bronze, and gun metals AND using them where you wouldn't expect it – in shelving, strapping and of course on hoods.
Another trend we're seeing on the continued upswing that is really fun too, is a lot of pattern coming into the kitchen.
And it's not just about filling those 18" of backsplash but running a patterned tile all the way up the ceiling for a wallpaper "like" feel.
DH:  How about all the open shelving here, both here in Bucks County and beyond?
KP. Yes, it's definitely still having a moment. It's a little intimidating for some but definitely continuing its design moment for us and elsewhere. It's a great look other people are loving.
DH. I agree on these. What about door styles? I'm seeing much cleaner lines continuing.
KP: Yes, me too. Raised panel doors are on the downslope. People want cleaner lines, we're also noticing the removal of center rails in drawers, and we expect to continue to see simpler surround moldings – clean lines, full overlays.
DH. Are you seeing more slab doors here in the suburbs? Certainly, the shaker door panel is remaining strong.
KP: Not much on slab doors here in the suburbs, but for clients who are well traveled, or who have spent some time in Europe, we are seeing that. It's definitely more of a city look and a more modern look.
DH:  It's interesting looking at trends in our own geography versus what's happening in the greater beyond…the country in total.  Interestingly, on slab doors from industry resources, I'm seeing the use of rift cuts and quarter sawn woods – very exciting – but not I'm not seeing that fly with clients in this area just yet.
KP: Yes, I agree. And we're in the heart of Bucks County, where everywhere you turn, it's another stone house. But even there, people are starting to embrace cleaner, more modern lines and I expect that to continue.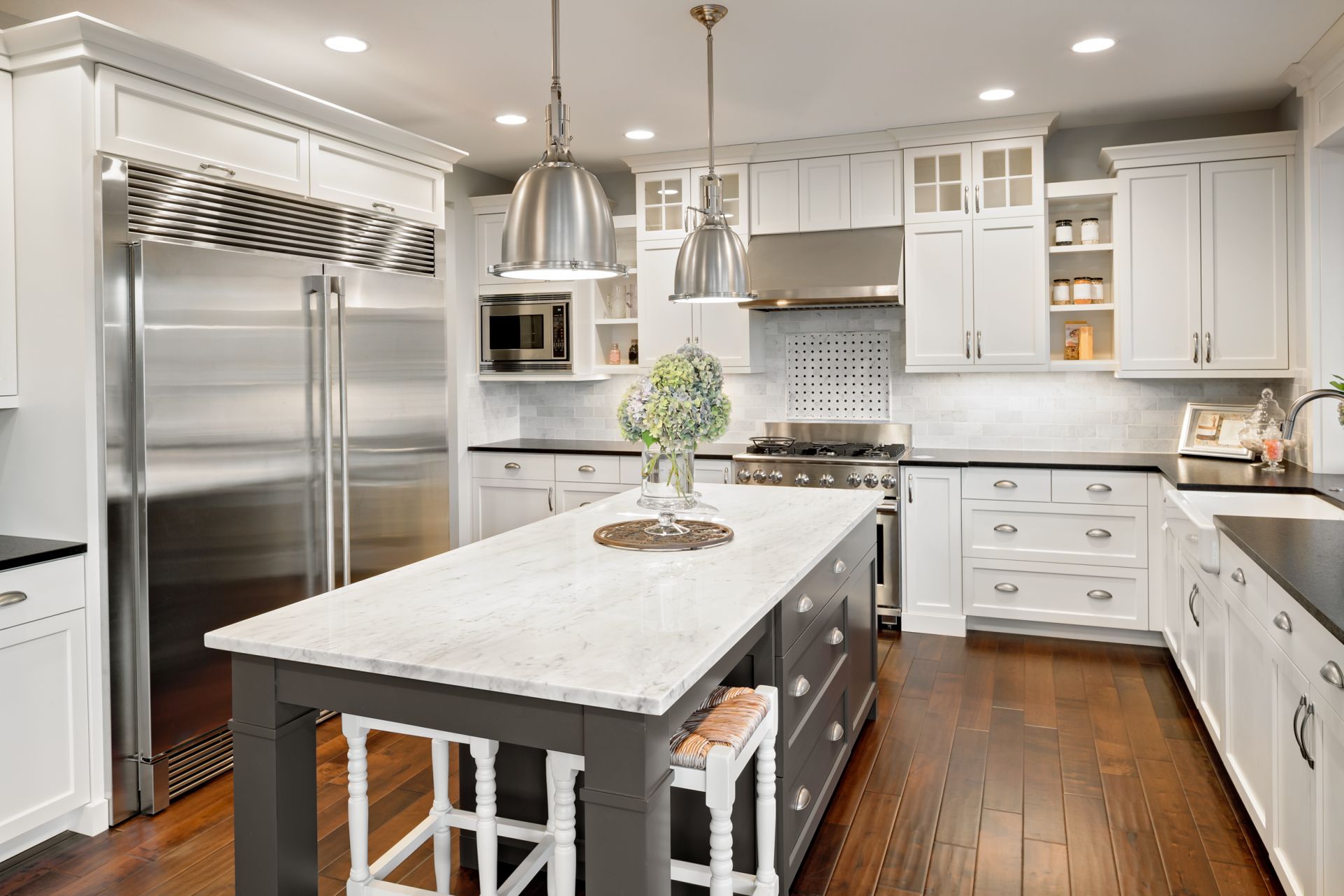 Trending Finishes and Colors:

DH. So, let's talk colors and finishes: What are you seeing…because I'm seeing blue continue, but hunter green is starting to show up in places on the larger trend forecast scene. But I'm not seeing hunter here in Bucks County, PA or Princeton, NJ yet…. You?
KP: You know, like you, I'm seeing Hunter on the larger design scene, but not here yet. People are most comfortable with the blues, and perhaps greening up that blue into a teal.
In total, on finishes, what we're being asked to do and what I see continuing in the forecast is 98% paint. There is so little stained wood – cherries, or maple. And, if wood IS stained, it's going to a gray driftwood undertone, or to an espresso.
And the wood cherry and maple kitchens are dropping like flies.
DH: What about the white kitchen, where do you see that going?
KP: We've had a slew of them over the last 3 years. Truly, 4.5 out of 5 kitchens would be all white. But now I'm seeing a little bit less of it.
Those whites are becoming very pale grays, very pale taupe's or just a warmer white and we're definitely not seeing as many glazes anymore.
DH: The white kitchen is funny. People have a love-hate relationship with them. They're clean and crisp, but it got to a point where everywhere you looked there was a white kitchen.
We've been seeing the design community pushing for the "next and the new." And, here in Bucks County and Princeton, we do have clients saying, "Give me something different…I don't want another all-white kitchen."
DH: I'm also seeing colored grout, black grout, and interesting new pulls as well. Actually, I'm seeing more colored grouts too – a great way to update subway tile.
KP: Yes. I'm seeing more interesting hardware finishes like honey brass and gunmetal, and we're seeing more colored tile too.
DH: How about the black and white kitchen? It's trending nationally and it seems the understandable morph from the all-white kitchen, it's much warmer than the white Icey kitchen.
KP: You know I see it on the larger scale in the country, but I don't see a lot of that yet in Bucks County.
You know what we are seeing here? We're seeing the white kitchen with metal drawer fronts.
DH: Exciting! That's awesome!
KP: Maybe I'm pushing a little hard!
DH: No, not at all.  One of the things I love about your work is that I think you do have an affinity to take people forward.
KP: You know, people don't do kitchens that often. It's so intimidating. I think it's our job to show them what's possible and what's next.
DH: I totally agree. And I also feel very responsible, as I know you do too, to guide clients into a design that reflects deeply who they are in design, while guiding on trends – those that are coming in and those that are leaving.
Trends that are Leaving…Or You'd Like to See Leave:
DH: SO…is there a trend style you'd love to see go away?
KP: (laughing)…Um yeah. That traditional raised panel cherry wood kitchen. I would be OK with me if that went away and stayed away.
I'm also over shiplap (I'm laughing now too). It has become very overused.
Although if shiplap can be incorporated in a kitchen in a very unexpected way, then I think it can be exciting. For instance, do an island with a shiplap panel, or do a ship lap insert in a cabinet that offers a shift in materials.
That's where that idea can be repurposed. But enough with it all over the walls.
DH: I agree with you.
KP: You know what else I see fading and I'm glad to see fade? Raised eating counters. I just don't see them looking ahead but in general we're not seeing that request coming in.
DH: It's not a clean line so it makes sense. (It's a broken line). Plus, if you like to serve a lot from your island when entertaining, that raised bar area really screws that up.
KP. Exactly on both counts.
DH: What other fading trends do you see?
KP: People are not paneling every single appliance anymore. In kitchens its almost become a brag-fest. The refrigerators people used to want to make it look like an armoire, now they want the fridge.
DH: Good point, I agree. But you know, I still see that dishwasher being covered in cabinetry a lot.
KP: Yes agree. But when you think about it, that dishwasher becomes an interruption in a run of base cabinetry, so the paneled door keeps it clean. Showing off your $16,000 refrigerator is another thing, right?
DH: Ha ha.  And I'm loving the matt black appliances that are coming, and metal hood design, in color or metal is continuing to flourish.
KP: Yes, but appliances are hard to go with into a new trend, it's expensive.
DH: Yes, so I like to throw the trendy colors and movements into the more easily changed items: light fixtures, furnishings and if need be, the tiled backsplash.
KP: Agree. Before we end, there's one more thing I have to get in here. This is about  something that's coming and it's awesome: Integrated LED lighting.
We'll do toe space lighting; we're seeing a different version of interior lighting within aluminum channels that sink into the sides of a glass cabinet. They have a milk lens so you don't see the diodes like you used to.
You can now open a draw base and the drawer trips an interior LED light. So, you can see what's in your drawer. I expect to see even more innovation here.
DH: Well…now I want a new kitchen.
KP: You and me both!
Well, lovely, there you have it. The only thing you missed in this conversation was the laughter and joy when Kim and I get together to talk design.
Hope we succeeded in inspiring and exciting!
For more info, here's a bio on Kim and her website!
---
Kim Price is the Kitchen, Bath, Millwork, and Cabinetry-Design Whisperer. Her super talent in kitchen and bath design, as well as cabinetry and millwork design has led her to designing in in both residential and commercial spaces. After working in her own company for 10 years, collaborating with fine architects and builders, she now heads up Bucks County Cabinetry and Design. There she leads her team in all manner of projects from luxury custom homes to community developments to single family renovations.
For more info visit Bucks County Cabinetry & Design