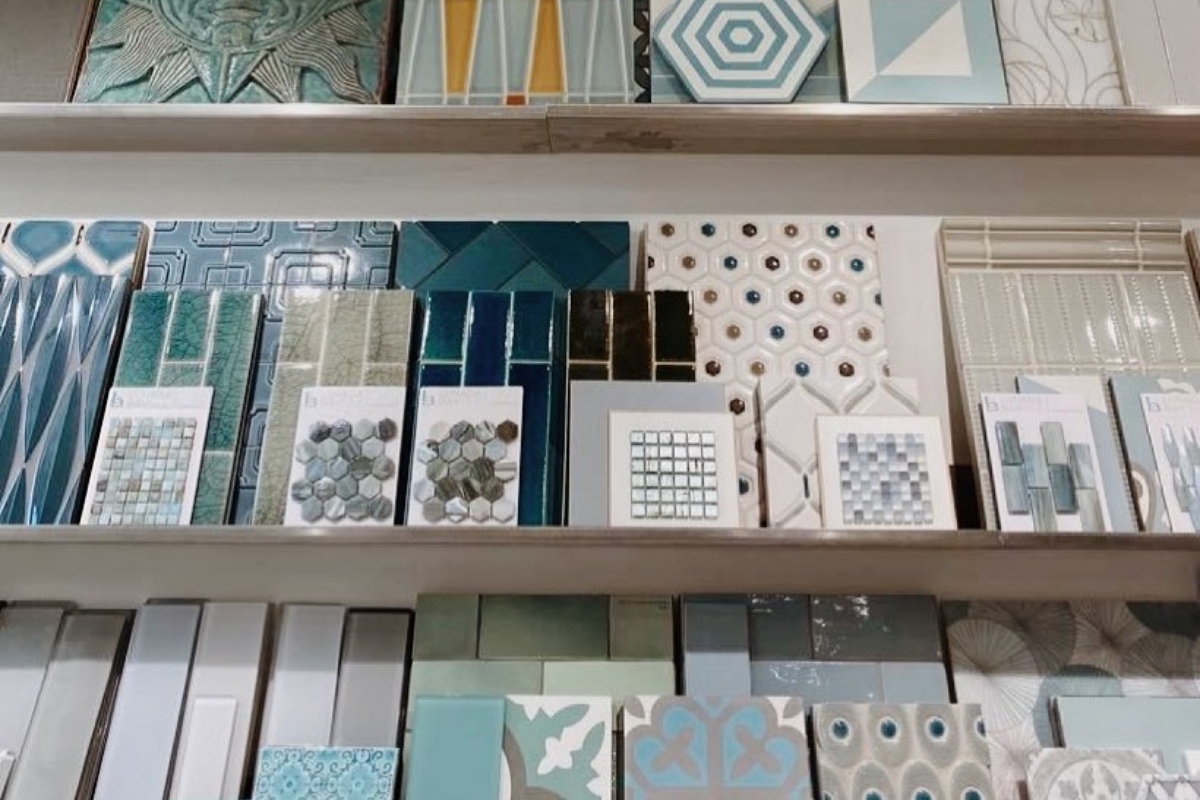 When it comes to design trends in 2021, how does tile stack up? Well, let me tell you, tile trends are so much fun right now! They're all about reimagining classics, injecting color or pattern, (or both) and creating movement where we're used to seeing quieter surfaces. Let's break it down and look at some imaginatively used tile and some unique tile placement.
Tile Trends for the Kitchen
In kitchens, we're seeing the continuing trend of creating a backsplash with an interesting pattern and visual movement. A popular favorite, subway tile, is getting a revamp with different shapes. Beyond the 3"x6", scale continues to grow. Additionally, beyond a simple beveled edge, we're seeing subway tile turned into a picket, or long diamond, shape with a rounded edge. Their lay in is changing as well, with more being hung in a north-south configuration instead of the traditional east-west placement. Other varieties of this modern tile feature a thicker width in the center for some spectacular dimension. 
Another tile trend for kitchen that will continue to gain popularity is color grout. You can take something as simple as a traditional subway tile and pair it with black grout, and you've got instant depth and interest. In a pool house or beach house kitchen, simply installing subway tile in a herringbone pattern but adding a soft gray grout looks sleek while opting for bright yellow grout creates a backsplash that POPS!
Adding to the trend movement is slab tile. Taking a beautiful Cambria quartz from countertop up the backsplash is a clean look. And, running the slab from the counter to the ceiling – and even behind exposed shelves – is a great look as well. 
Tile Trends in the Bathroom
In the bathroom, large field tile continues to gain ground. (Less grout lines to clean – a bonus!)  When we say large field tiles, we're referring to 18 x 24-inch tile. The look is clean and expansive. We're also seeing a trend toward entire shower accent walls and combining distinctive tile with more standard materials – another trend we love.
Hexagon and small penny tile in showers are gaining popularity too. The vibe is a little bit European, a little bit vintage, and the increase in grout lines provides safer footing on wet surfaces so it's great for the floor. However, in a large installation on a shower wall – or in a sleek powder room, – a black penny tile with a white grout can create excitement. 
Tile Trends for Fireplaces
There are now some fun opportunities to use tile around the fireplace – rather than leaning only into a classic stone surrounding the firebox.  Certainly, we're seeing great shaped tiles surrounding fireboxes – from marbles to porcelain.
However, the hottest of hot trends currently is taking a large slab of stone, stone composite or porcelain and running it from floor to ceiling. Yes, we said porcelain slab! There are some great new porcelain slab innovations that actually look like stone. 
When properly book-matched, no matter the slab material selected, the large installation of a single material becomes a striking note in any space. Surprisingly, porcelain slab is not a "super low cost" alternative to other stone or stone composite because it's thinner and more challenging to transport and install. Still, though labor is higher, porcelain slab should still land at a lower cost than many natural stones. 
Designing and selecting the ideal type of tile for your project, ensuring it's going to be something you'll love for years to come and that it works ideally with your own design fingerprint, and, your architecture becomes a stress-free experience when you've got a trusted and proven interior designer team like IDH at your side. Our team can help you achieve the look of your dreams – and beyond…or so our clients continually tell us.  We're ready to help you and your family too. 
Want more ideas delivered right to your inbox? Sign up for our newsletters. Be sure to reach out when you're ready to start your own design project.