Nine Kitchen Interior Design Trends To Love In 2023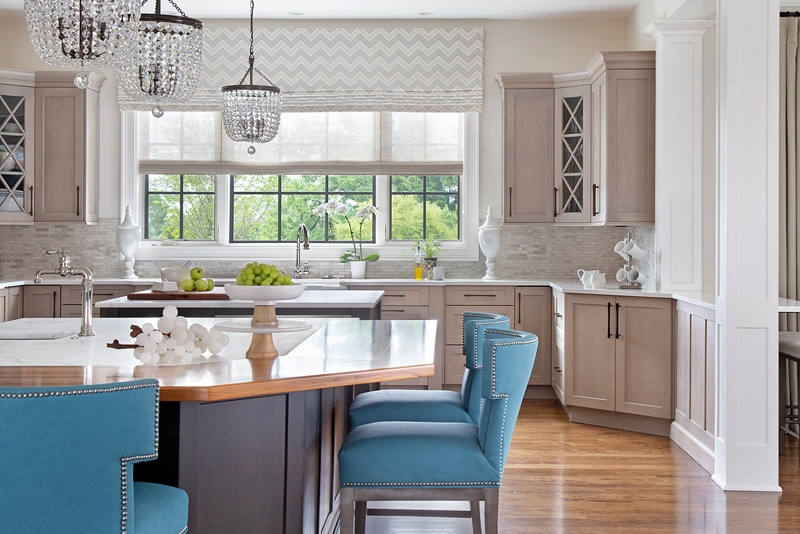 Not to rush us head-first into the new year, but it's that time to look ahead at 2023 interior design trends. And if there is one room in the house that we get the most questions about what's in and what's out, it's the kitchen.
This comes as no surprise because kitchens are indeed the very heart of the home and add so much value, serving as command central for so many owners — from leisurely Sunday brunches, to elaborate holiday gatherings, and casual weeknight catch-ups. The kitchen is also the place where beautiful form and crucial functionality intersect in many ways.
Here's a peek at some of our favorite kitchen interior design trends to keep in mind for 2023.
1. WHITE KITCHENS ARE STILL 'IN'
Everyone who loves white kitchens should stay calm because the white kitchen is not going anywhere! We featured white kitchens in our 2021 trend roundup, and they are still here to stay at the top of our list. But, do know they are morphing a bit. We are seeing all that crisp white also get warmed up to a refreshing glow with spiced vanilla hues as well as seeing a mix of white cabinetry with organic, natural woods in multiple gradations — from the lightest stains to medium tones.
2. OPEN DISPLAYS
The look of open shelving as a counterpoint to all those cabinet doors is also staying the course in 2023 as a big trend in kitchens. It's a wonderful way to infuse personality into a space by displaying special china, quirky collected pieces, gorgeous drinkware, vases, and even glossy small appliances.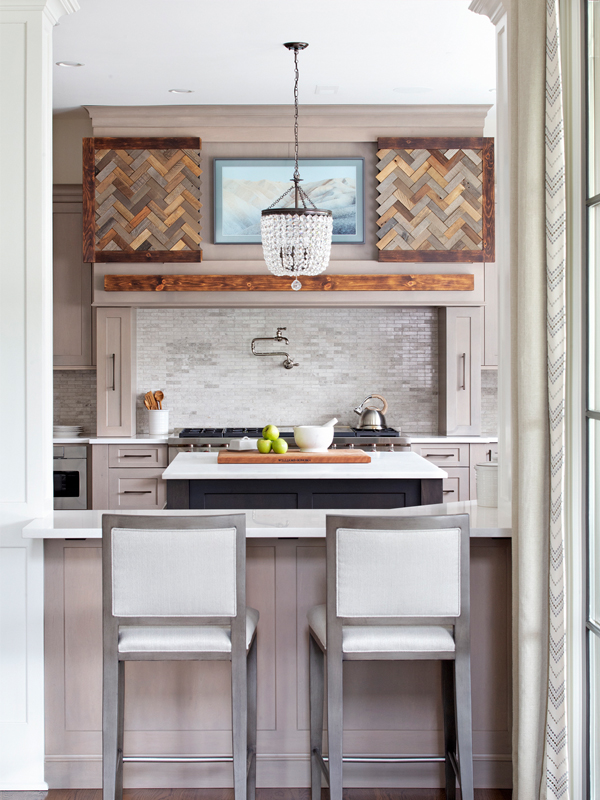 3. TRANSPARENCY — IN MORE WAYS THAN ONE
Glass is playing a big role in kitchens — for those who dare to reveal! The see-through effect comes through in glass-front cabinets (which can actually be slightly less revealing than those open shelves!) and even glass-front refrigerators that show off bright produce and other delicious delights. We're even seeing it in glass pantry doors. It's all about that voyeuristic peek inside. Now, we realize this trend isn't for everyone. But, for those whose lifestyle accommodates, it's a beautiful way to peel back a layer or two in your kitchen.
4. HIDDEN MOMENTS
For as much as we are seeing all the exposed elements — Glass doors! Open shelves! — we're seeing an equal amount of strategic wizardry to hide other less palatable things. For example, a TV gets tucked behind lovely wood doors or a piece of art on the wall and overlay refrigerators blend into their cabinet neighbors.
5. SIMPLE YET HIGH-IMPACT DOORS
Speaking of those glass doors, let's talk cabinets. The clean, sleek lines of shaker doors are still the most popular kid on the block in many modern-traditional and transitional styles. But, this minimalist aesthetic is tiptoeing into more maximum impact with accents like polished brass inlays, mesh overlays, brushed metal details, and patterned wood inlays.
6. SIGNATURE LIGHTING
The future looks bright with lighting in the heart of the home. Trends continue to shift from smaller to larger formats — think large-scale yet minimalist-line pieces, blingy chandeliers, and oversized pendants. A central island often provides the focal point for this breed of signature, statement fixture.
7. EXTRA-CREDIT COUNTERTOPS
Countertops are the most expansive surface area in a kitchen and 2023 is ushering in more ways than ever to add character here. Look for the deeply veined patterns of natural stone and manmade quartz that are sweeping the scene instead of more speckled and mottled designs. Slab materials are not only continuing to the backsplash but all the way up to cabinets and even the ceiling beyond for maximum impact. That big center island you know and love? It's being differentiated from the other stone-clad surface areas through contrasting but companionable stone surfaces, or the integration of woods and metals as an accent.
8. STATEMENT HOODS
In both transitional and traditional designs, the cooker hood is a statement maker — especially when it is highlighted by beautiful brushed metals. But, we're also seeing a swing to the alternate side of the spectrum, too, where this utility player slips into invisibility and is designed and painted to blend right into its surroundings for a more integrated effect.
9. TECH CHECK
Innovation continues to drive kitchen design, too — and it's popping up in everything from touchless technology in kitchen fittings, to smart appliances, to cabinets and drawers with light sensors. It's all super-practical and makes cooking a dream.
—
For those who live to cook and entertain, your every wish is our command. After all, the kitchen is the recipe for memorable and soul-feeding hours spent with family and friends.
At our luxury interior design firm, we identify all of your functional needs and merge them with the latest interior design trends and custom elements that make a personalized space that's truly the heart of your home.
For additional inspiration, check out our portfolio of our latest kitchen designs and contact us to learn more about how we can help you make the magic happen in your kitchen too.