High Point Furniture Market Pt3 – Materials
When our design team heads to the High Point Furniture Market, we are serving many masters during the long showroom workdays. As our brains are taking in all things trend related, we are also evaluating for what materials are trending.
To first get onto the same page, a side note: When designers say "materials", design consumers sometimes hear and think "fabric," as in, "is the material on my new shirt dry clean only?"
In the interior design world, fabric IS a material; so is stone, wood, metal, rattan, grass, lacquer, mirror, glass, hair on hide, leather, grass cloth, paper, to name a few.
"Materials", in this case, refers to the element and finishes used in the construction of furniture!
Here are the materials trending for 2023 and beyond:
Cerused Oaks
Always the reliable player, wood remains at the forefront, and for obvious reasons.
However, what caught our eye was the type of woods that are trending and how they are used. Oak is everywhere, specifically with cerusing. This unique finishing has the ability to mute the original wood color while at the same time emphasizing the beautiful grain of the wood. Cerused oak was literally in every single showroom that our team visited, only differing by the intensity of the texture added and the manner in which they stained the final product. For example, Bernhardt's version of the finish was dramatically more apparent than, Century's version of the same finish. Century took a more reserved approach in the distressing with beautiful results, as one might expect.
Rattans and Caning
Gaining steam for several years now, and like what we saw at Paris's Maison & Objet design show, rattan was a heavy hitter on this side of the pond as well. We love the versatility of this material, showing up on chairs, light pendants, bedframes, and tables. Depending upon its use, it can be at once organic with a classic elegance; or organic and farmhouse relaxed…and everything in between.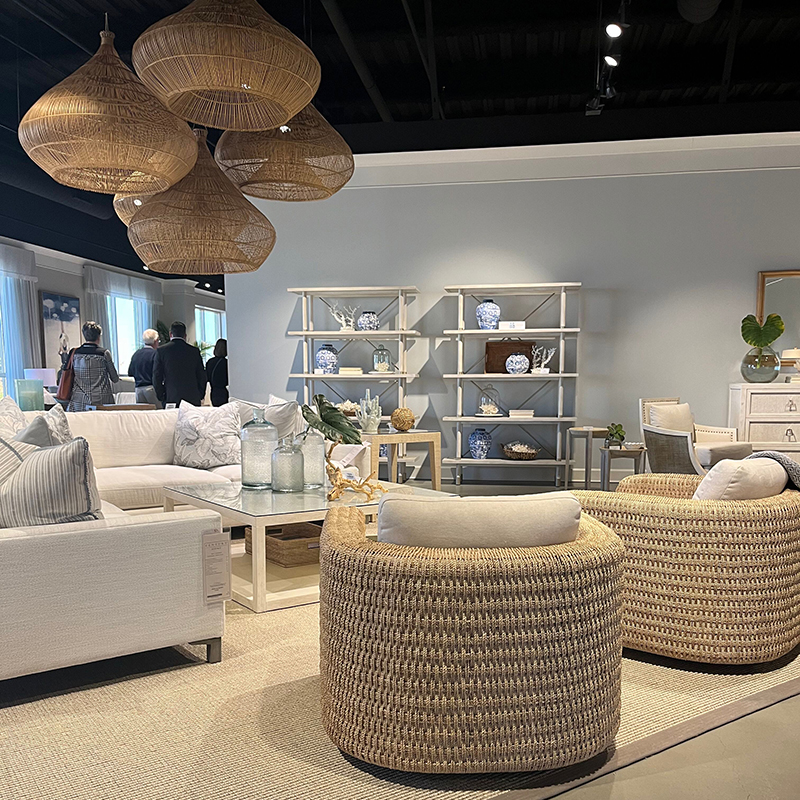 Cast Resin
Cast resin has always been an integral part of the interior design industry. How it is being implemented and where it is showing up, made much more of an impact this year…and we applaud it!
When poured straight, the glorious sheen is unmatched. When used otherwise, the texture is outstanding. It is no longer playing the supporting roles in simple table lamps or an occasional mirror frame, but now it is being used for fabulous armoire doors, interesting accent tables and entire bedframes.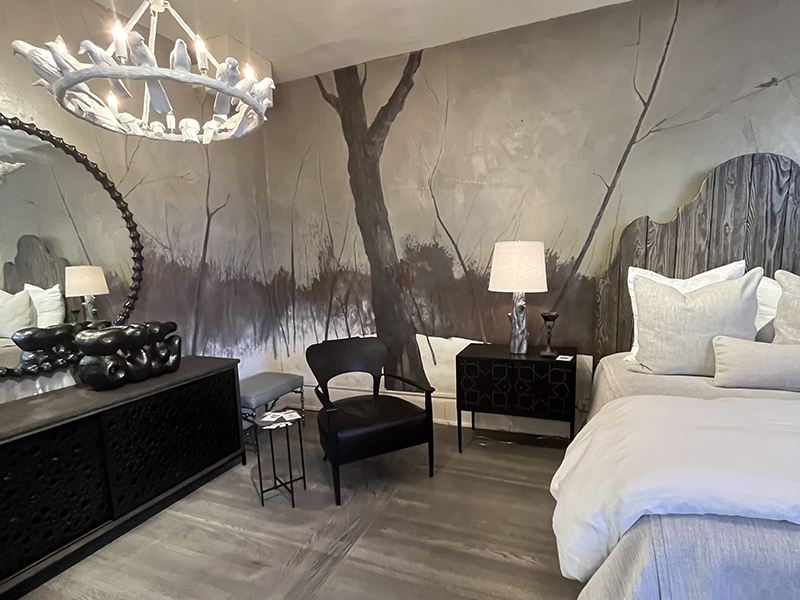 We loved seeing the juxtaposition of these various materials in conjunction with each other. As an example of this look at the table picture below. This innovative and equally gorgeous live edge slab table is held aloft by translucent acrylic blocks.
Stone and Stone Slab Stone is having a "moment of moments". Think stone slab dining tabletops, stone slab desks, consoles or drawer fronts. There were even resins and veneers that were used to approximate the look of stone – emulating a faux marble or a rich deep green onyx. We even spotted a few resin accent tables pretending to be made of stone. The stone age is alive and well…again.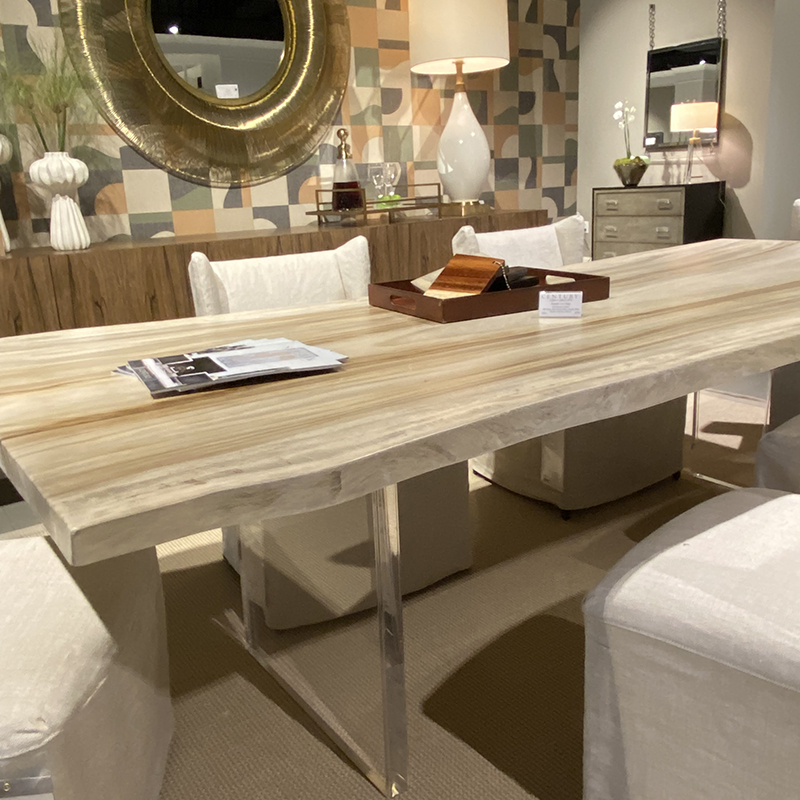 Other material elements present:
We are still seeing wrapped faux shagreens for case goods. Also spotted, was the trend of reeded woods, in every proportion: from delicate and subtle to large and dramatic. Metal remains strong by itself, or as the accent on upholstery or case goods. Fur had a larger presence than leather this year, but leather never goes away entirely. In the fabric world, bouclé's continued to show themselves, in various exciting scales. Speaking of the fabric world, we continue to see the return of florals and the proliferation of indoor-outdoor fabrics that look and feel like the best of fabrics for well-lived-in homes.
As a visual summary, this photo of several martini tables tells the entire story of this blog in one shot (no pun intended):
The diversity and use of the materials used, and the exciting combinations in which they were utilized, added eye-candy and dynamism to the show – certainly food for our design souls!
Join us for the 4th and final blog in this High Point Furniture Market Design Trend Series, where we will finish up with a discussion about the furniture silhouettes that dominated the catwalk! See you next time!