Peeking Into Our Interior Design Firm's Portfolio of Specialty Spaces That Feed A Man's Soul
It's a common misconception that only women get super-jazzed about working with a designer. But, at our luxury interior design firm, some of our most enthusiastic, engaged, and (frankly) fun clients are the men of the house.
And 'why not' is what I say. Many guys I know have an eye for style – or at the very least an aesthetic interest and appreciation of their surroundings and how their space influences their quality of life and home pride.
One of the more exciting types of projects we work on with the guys are specialty spaces. These can look many different ways. For example, I recently completed the most handsome closet for a client's wearable collections – all inspired by the photos of one of his favorite fashion designers. And I'm telling you, we gave the original a run for its money.
While that type of space is slightly less common, here's a rundown of some of the most popular ways we set up our men for success and bring their man-cave dreams to life.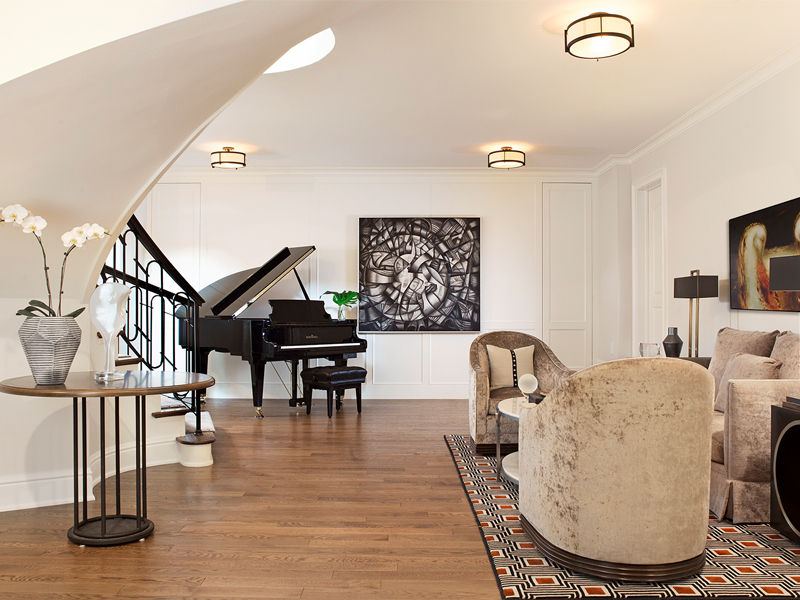 Bar and game rooms
Bar and billiard room requests are high. With a dual focus on entertaining – for both guys' nights and couples' nights – the look can be clubby or Old World. Handsome cabinetry and stylized furnishings set the stage. Add in a fully customizable billiards table design – one that raises the pool table to "art form" – and the room's temperature is rising. Game tables and card tables are appropriately traditional or freshly posh, too.
After preserving the correct play space for the customizable gaming zones, an adjoining lounge area is also a popular request – space permitting. The logic: Why go out for a great night when you can "go in?"
Side note here: There's another type of gaming that's also been picking up steam – and that's a hub with all the bells and whistles for video games. Sometimes this looks like a lineup of the retro, arcade-style games and sometimes it's fully driven by tech, sound, and screens for the ultimate play by play in esports and more.
Wine rooms
As wine collecting continues to gain speed, we're seeing more and more requests from him to have a wine room "experience" at home. For one client, we indulged his request for a traditional, European-inspired space; for another, we designed something uber-modern with sleek finishes and lots of glass, where the bottle display actually becomes artful eye candy.
Common to all, though, is both a temperature-controlled area plus a comfortable dining area used for tastings and for intimate, wine-paired dinner parties. Cheers to that.
Guy-Bling Bath
Yes, you read that correctly. He cares about His Bath – and the bath pour l'homme makes his daily ablutions a ritual pleasure. Boasting resort-style luxury with handsome finishes and richly appointed cabinetry, these spaces generally come equipped with tricked-out spa tubs and media, too. We've added everything from flat screens, to integrated music, and motorized shades for privacy.
—
This list doesn't stop here either. From super-rad gyms, to elevated home theaters, and even the quintessential home kitchens, the guys are setting the standard for spaces they love.
Check out our portfolio for more specialty rooms we've designed and let's chat about your big dreams.