Perfect Outdoor Spaces – Trends in Outdoor Design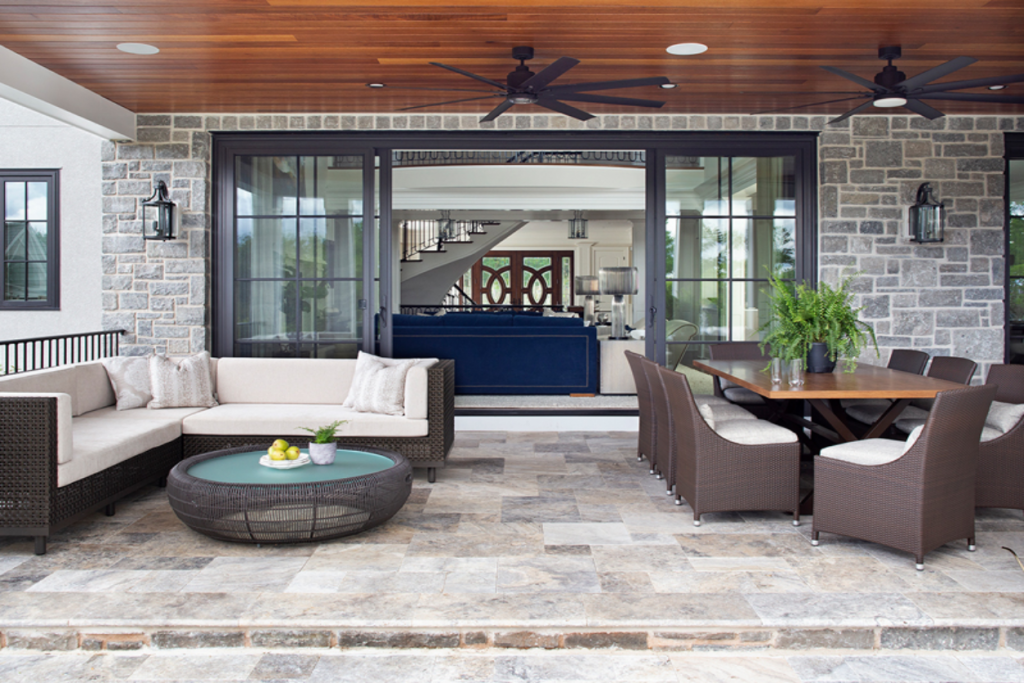 "Bring the outdoors in." Designers and clients have been obsessed with this concept for so long it's practically a cliché. Lately, the trend has reversed! As a team of luxury interior design consultants, we love helping our clients take the indoors out. When you think of outdoor living, water-resistant speakers and outdoor kitchens may come to mind first. We love to take it further to create a bespoke living experience and we aren't the only ones. Current outdoor design trends are far more sophisticated and subtle than in years past. Let's explore them!
Lush Fabrics
In years past, we were pretty limited in the fabrics and materials we could use outside. They were often plastic-covered or rubbery feeling – something that could take the abuse from wind, sun, rain, and muddy toes. These days, we have beautiful – dare I say lush – fabrics that can withstand the elements, be cleaned with bleach and a garden hose, but feel like indoor textures. With the help of a luxury interior design consultant, you'll discover these modern, style-forward fabrics that can't be found at your local hardware store's garden department.
Graceful Silhouettes
We're also seeing gorgeous silhouettes and cushions formerly reserved for just inside coming out to screen porches and covered patios. Elegant sofas and comfy club chairs in indoor/outdoor fabrics are making an appearance more and more frequently. In fact, they're getting so popular that we've used these outdoor furnishings in sunrooms and conservatories to blur the line between interior and exterior spaces.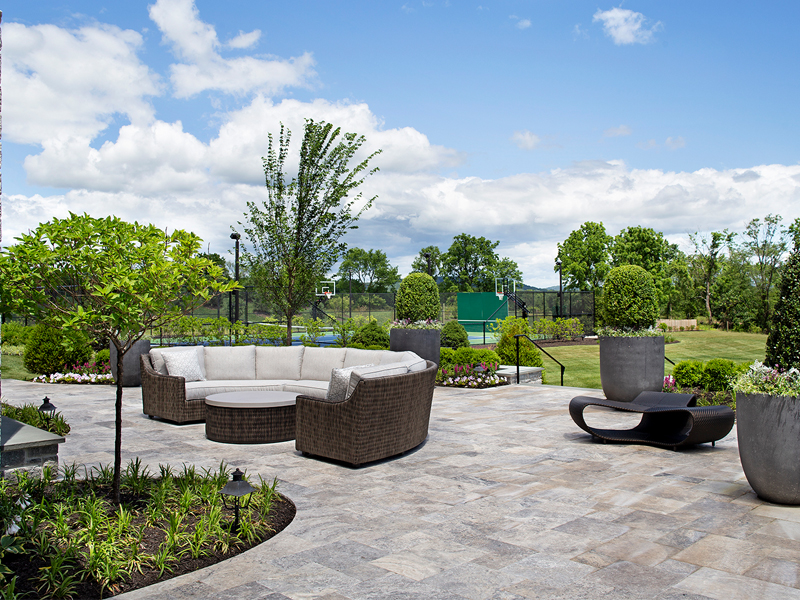 Comfort Out Of Doors
There's a significant focus right now on moving comfort and style from the indoors out. Armless outdoor sofas that look like indoor sofas, upholstered sectionals, customized seating, – are growing in popularity. One of the most exciting trends, and a big reason you need an interior design consultant to assist you in the design, is the coordination of indoor and outdoor furniture across spaces. The lines and patterns may not be identical but dance in the same style other so that your total home the space is cohesive.
A word of warning here: Be careful how much you vary your fabrics and color palette. You can quickly move from coordinated and cool to messy and disorganized. In other words, make sure you hire an interior design consultant before you get started.
More Variable Materials
A wicker or rattan piece is a beautiful addition to your outdoor space. It's just not very durable. Recently, we've seen an increase in woven furnishings that look like wicker and rattan but are far more durable. There's also an uptick in material combinations, such as partnering a woven wicker-like material with a teak base on an outdoor club chair. The innovation in materials looks really exciting.
Personal Touches
The final trend we're exploring today includes personal comfort items in outdoor spaces. Cushions, decorative pillows, and sculptural side tables add personality to outdoor spaces. You can go beach-chic or get incredibly elegant with outdoor accessories. There's also more opportunity now to include stellar outdoor lighting – something beyond simply a fan to chase away the mosquitos.
A final note: Outdoor spaces seem simple. The truth is, they're just as complex as any room in your home and they are not without expense. Hiring an experienced designer will ensure you get it right the first time and a space you'll live in and love for a long time.
Are you ready to start your luxury interior design project? Download your Luxury Project Budget Checklist for Success first. When you sign up, you'll also receive design inspiration right in your inbox!