IDH Recognized for Residential Excellence in Interior Design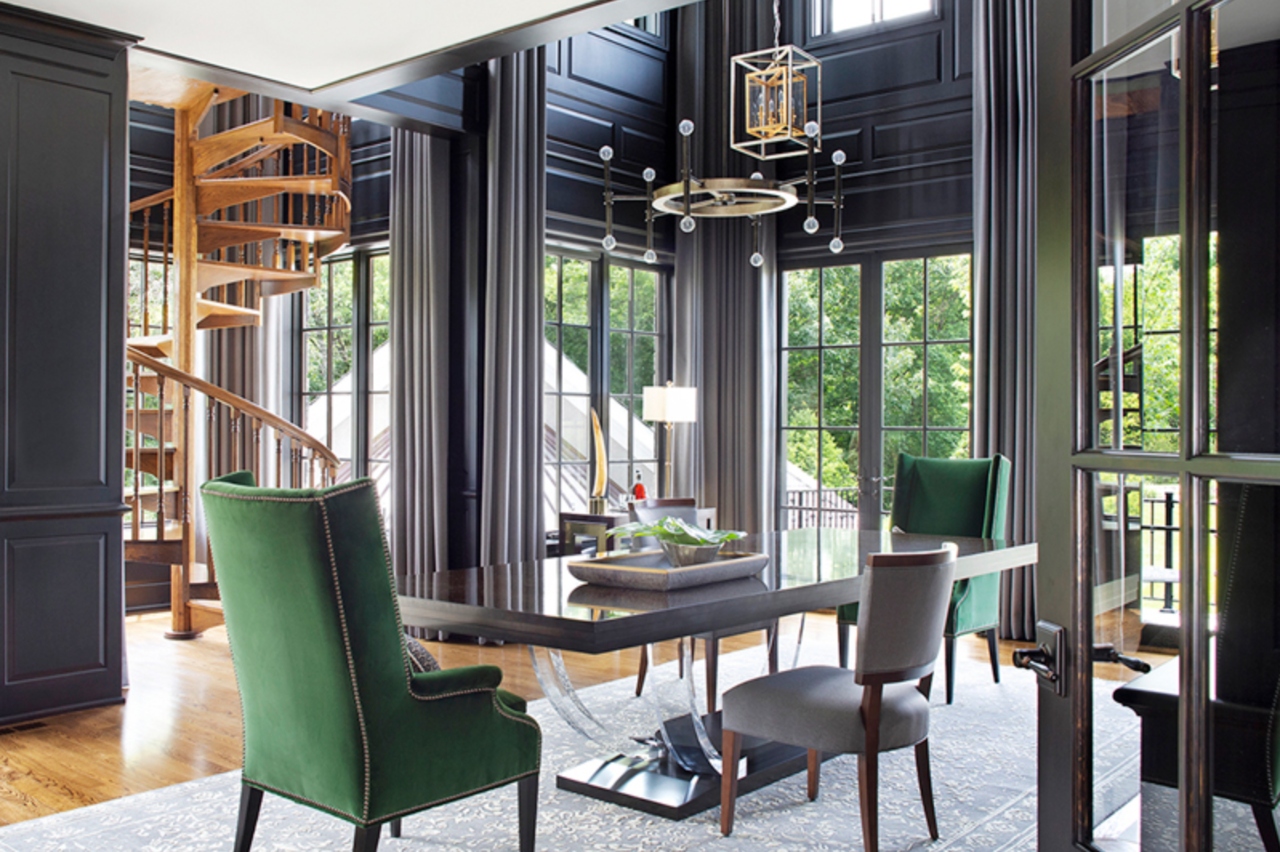 The results are in, and we can finally announce that Interiors by Donna Hoffman has won a coveted Luxe Magazine RED award – (standing for Residential Excellence in Design) in the Classic/Traditional Interior Design category. This stunner of a gentleman's library located in Upper Makefield, Pennsylvania, truly stands out as a noteworthy space and we loved every minute of designing it for our clients and with the stupendous builder on the project as well.
The RED awards honor excellence, innovation, and the best residential architecture, luxurious interior design, and landscape architecture by accomplished professionals across the United States, having received over 1,000 submissions this year. It's truly an honor to be named among this group of exceptional professionals.

Luxurious Library Design
With its two stories and custom ebony millwork and cabinetry, our client wanted a signature home office library and initially showed us a celebrity's library as inspiration. We coyly asked if we could remove the "fuddy-duddy" factor to create a space he'd love working in, but that was also truly signature, fresh, and hip. He smiled and gave us the green light. Our plan clearly worked, as evidenced by this year's RED awards.
Originally slated and framed as a single-story space, our client made a very late-game request to make the library two stories. The residence's second story was already well underway! However, the builder excelled in the redesign with innovative and interesting choices. The results are a split level, two-story library.
It boasts a captivating expanse of tall windows, and a gorgeous spiral staircase which we highlighted further with two-story window treatments. As a nod to our client's love of men fashion, the treatments are made of what looks like gentleman's fine gray flannel. The second story loft holds more books, an upholstered reading perch, and a fine view of the striking millwork ceiling.
The library speaks to our client's appreciation for clean lines and elegance, with green velvet wing chairs at either end of the more modern, eye-candy custom oversized worktable, topped with a two-tone fixture. As the room dips from the classic to the more modern, it maintains the feel of livable luxury and a refined timelessness. The only thing better than seeing this gorgeous space completed is having glimpsed our client happily hunkered down in the space on many occasions.

Opposites Attract
The spiral staircase and banister along the second level of the library beautifully offset the striking ebony millwork and cabinetry throughout the space. The soft gray custom rug drives a relaxing warmth and lightens the darker finishes. The worktable itself, requested instead of a desk, boasts an enormous smooth finished wood top supported by heavy but transparent curves beneath and is a study in opposites. Modern geometric pillow fabrics are used to create a further contrast and lightened spirit. The result is a library that is at once stately but approachably hip and truly original.
Best of the Best
Here at Interiors by Donna Hoffman, we create spaces that epitomize luxury that is livable, durable, and hugely functional. This library is a wonderful example of how luxurious interior design can also be a dream to work in and live in, completely tailored to the people living in it. Home offices and libraries are more important in these changing times. We are incredibly pleased to receive this award from Luxe Interiors + Design.
Are you ready for us to create YOUR exquisite home library or study? Contact us today to learn more about our comprehensive luxury interior design services.