The Benefits of Perfect Home Office Interior Design
With many people permanently shifting to a hybrid work environment – or officing 100% remotely – the prioritization of a perfect home office interior design has never been more important.
When we think about creating the ideal WFH space, it is never just about productivity, it's about quality of life. As is the nature of work, you're going to be spending so much time in this space, so you want to feel good in it. You may even be going into the "office" on Saturdays or Sundays or in the fringe hours before the kids wake up or after they go to bed at night.
Perhaps, more so than any other space, the harmonization of form and function is vital in a home office.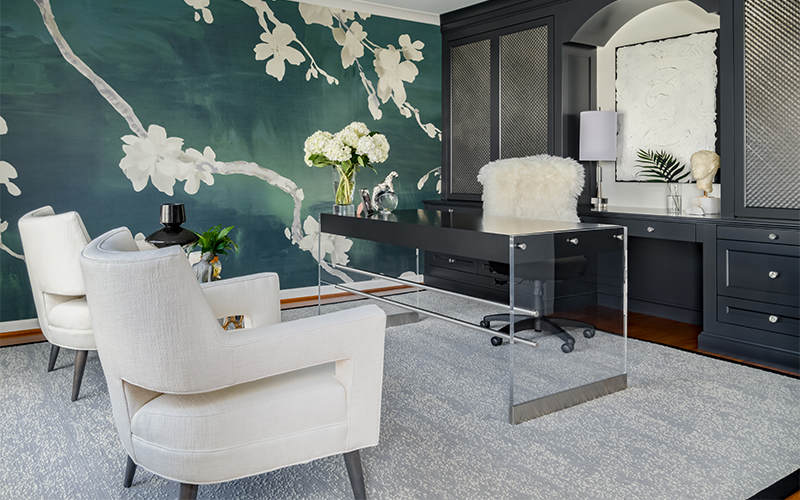 Increasing productivity through aesthetic alignment
There's no question that our surroundings shape how we feel. Everything from ceiling height (higher ceilings are equated to higher creativity!), to lighting, to accessories can richly inspire how we feel in a space. That's why it's so significant that your home office has the right aesthetic alignment to put you into an easy yet energized posture. It's all about a subtle pulse of design cues that create an environment where work becomes seamless because both form and function are balanced.
Creating your best first (or fiftieth) impression
For many of us, Zoom meetings have become part of our everyday schedules – and what people can see in the background makes a difference in how we present ourselves on camera. I always get asked about my "Zoom background filter." Well, darlings, it's not a faux filter, it's my actual office!
When designing an office, we always like to fully understand what the day-to-day of our clients looks like, so we can prioritize lighting, windows, tech, screens, built-ins, and more to accommodate function of work – right down to that Zoom backdrop.
Adding customized details that bring joy
We love elevating home offices with specific details that make work more effective and enjoyable and that make clients feel great. Maybe it's displaying some of their favorite art pieces in their collection – or space-planning a work-meets-play zone with a beautifully designed foosball table (they do exist!).
One thing we've noticed is that sit-stand desks are being requested more and more. And, while most of these look quite utilitarian, we have commissioned some gorgeous custom options.
For clients who are coffee aficionados and love an espresso any time of the day or night, we've added a glorious beverage center right in the office. We had an executive who was all about a certain kind of crushed ice. We built in an ice maker so he could have cold drinks close at hand throughout the day.
Many of our clients love having a cozier lounge area for more relaxed meetings – or to take a break when the kids come home after school. We also see a lot of parent-child work spaces. It's always fun to add a second workspace for the kids to do homework or arts and crafts, right along while mom or dad are working.
—
Minute by minute, second by second, hour by hour, and day by day, you want to stack the deck and make your home office an aesthetic haven, so that when you sit down (or hop on that in-office treadmill for a walk break!), you feel your very best.
For inspiration, peruse a few of our perfect home office interior design projects here and let's discuss how we can create a space for you that serves a beautiful purpose and that checks every box to become a joy to work and live in.