Creating A Mother & Child Home Office Space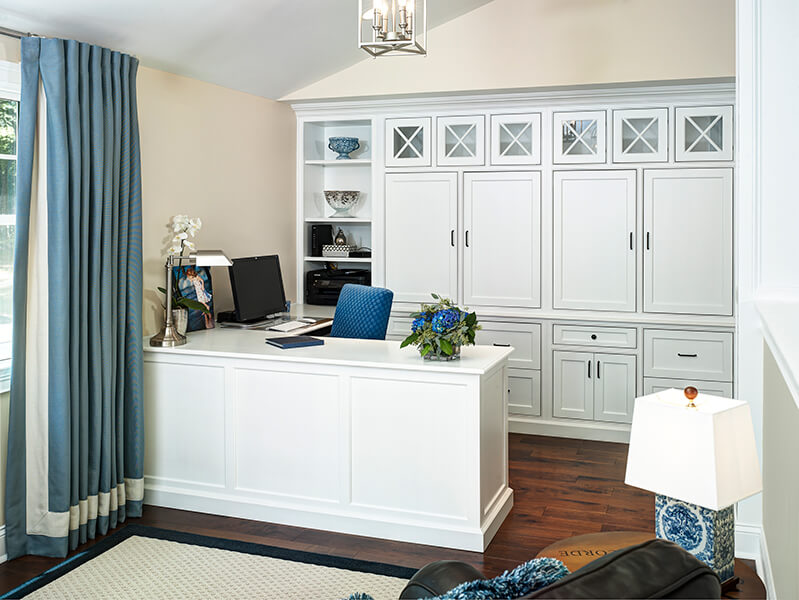 We're all working from home a lot more these days. If space is tight – and you have kids – sharing a home office might be a necessity, especially since school starts up in a few weeks! But don't worry. Just because it's a shared workspace with your children doesn't mean it can't embody luxury and ease. Here are my pointers for creating that beautiful space in your home, that actually does a lot of the heavy lifting for you too.
Organize and Hide Those Papers

If you have elementary school aged children, they'll likely have a ton of papers already. If your budget allows, built-ins are great for bringing order to the chaos. File drawers and cabinetry hide school clutter, craft supplies, and those drawings that your kids aren't ready to part with but just can't seem to throw away yet. I suggest creating a file drawer for each child's schoolwork for easy organization. Don't forget to clear out anything they don't need after each grading period. That way, you won't feel overwhelmed by the number of old assignments and worksheets.
Placement is Everything

Children, especially younger children, have a hard time tuning out distractions. A good trick is to position there desks facing a wall. Hang a pegboard above each desk for their art keeps it interesting looking. Desk drawers can be filled with  markers, supplies, and accessories that inspire creativity. Your shared home office space doesn't have to look like an elementary classroom, though! Remember, this is your space, so we always make sure mom or dad select furnishings and art you love along with a solid dose of design and color palette you find beautiful and inspiring.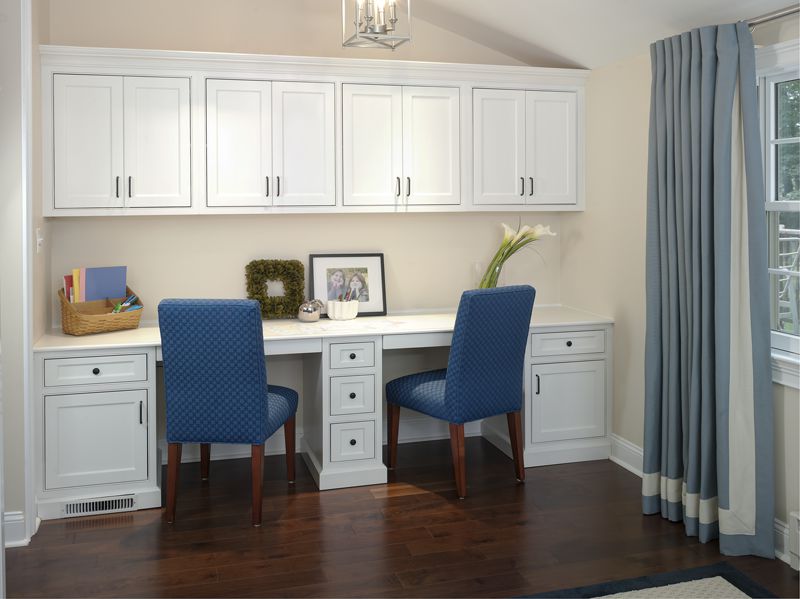 Ideally, this should be a place where only work happens for anyone using it. Best to eat lunch in the kitchen and play in the playroom so adult working time isn't compromised.  When the kids go back to school on a full-time basis, this space will remain that "work zone" for them and the perfect place for efficient homework time.
Nice To Haves

If budget allows, purchase office chairs for each child or teen who will be working in the space. I'm a huge advocate for quality seating; it actually helps with prolonging focus. If possible, I like to add a comfy reading chair and ottoman. It provides an alternative reading space to keep kids a little more engaged by allowing them to change positions.  It's also a relaxing spot for you to take a work break, review assignments, journal, read or simply enjoy a cup of coffee before the work starts for the day.
As you consider how to transform a room into a home office, remember the principles of luxury interior design: items should be chosen intentionally, they should be beautiful, and the space should be one that you feel divine in!
If you find yourself struggling with creating the ideal parent child home office, as a full service interior design company, we are trained to see things you may not, and to deliver the very best in design to support you in living your best life…work included.  We would love to help you too.