The Big Reveal in Lawrenceville, New Jersey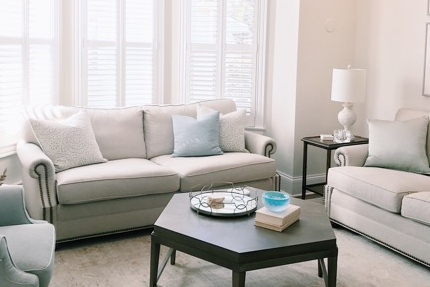 I adore every reveal, but when we transform an unused space into a new favorite room in a home, it's extraordinary. When looking for a luxury interior designer, it's vital that you find one who also creates beautiful AND livable spaces that feel great to live in. That's what we provided for this sweetheart client and her husband.
Converting An Unused Space
Before we got our hands on this incredible room, it was completely unused. As you can see in the before shots, there were two red couches and a lone chair that had become a catch-all for jackets and other items. The only member of the house that actually used the space was the family dog who did, admittedly, love laying on those couches.
It's understandable, though. A formal living room right off the front door is always a challenge for DIY designers. With no foyer to greet guests, upon entering through the front door, there was a sense of "spilling" into the home. One of our priorities was to create a subtle separation of "entry foyer" and living room. The second was to design a living room that was elegant, yet truly livable and approachable.
Create A Separation
When working with a space like this one, it's essential to create visual and physical boundaries to the room. Furniture is placed in such a way as to create a charming seating zone that beckons while also having a contained though "indicated" boundary, separate from the front entry. The luxe area rug not only helps defines the space, but it's truly pet friendly. And the stunning console creates a small foyer entry.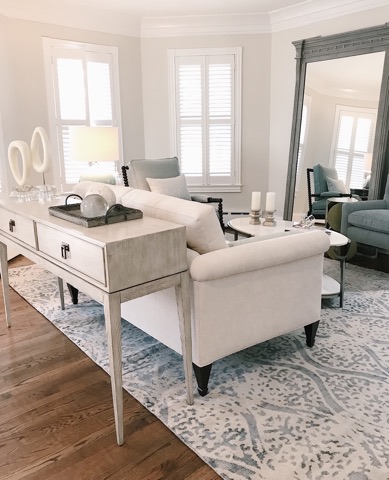 Color Creates Flow
As a luxury interior designer, I know that sophistication can come from a strategic and cohesive color palette. At the beginning of the video, you can just glimpse the adjacent room we had designed in a prior "phase 1." In the new living room, we continue using the whisper soft blues, beautiful washes of gray, and soothing white tones. Together, they create a sense of tranquility and effortlessly flow into the nearby sitting room.
There's nothing in this space that's cold or untouchable. Fabrics and rugs are soft and plush, yet meant for heavy use. At IDH, we believe in creating timeless spaces that people love to be in and can easily live in, work in, play in – they're luxurious and completely liveable!
As my client moves from chair to chair, you'll notice that she can't wait to sit in her new room with a cup of tea. Seating specifically selected for her and her husband's build because they have a "good sit"  – something else that's vital to creating these stellar spaces.  Our client's enthusiasm just spills out of her – to my great delight!
To me, it's a massive waste of your hard earned resources to have an unused room , so, we love erasing that problem! We were so thrilled to create this fabulous space for our clients that is perfectly aligned with what THEY love in design, and also respects the sensibilities of their beautiful historic home.
Are you tired of searching for the right luxury interior designer? Contact us today. We're excited to work with you!