The Perfect Closet Does Exist – And You Probably Need One!
As sure as the sunrises and sets, you are getting dressed in the morning and undressed in the evening. You may even be changing your ensemble multiple times per day at home, going from work attire to the yoga studio or the kids' soccer field.
What we always say here at IDH is why not elevate this integral function of your daily routine to a beautiful experience—something that's far more than just functional rods and hangers!
After all, you are dressing the part day in and day out. So, too, should your closet! But, what exactly are the characteristics of a perfect—and impeccable—dressing room? Glad you asked!
Here are five things to keep in mind to think about when working with a luxury interior designer to outfit this space.
Reimagining without the wrecking ball
1. It fits any style. Just as there are countless ways to wear fashion, there are endless aesthetic styles that a dressing room can take on—from bohemian-chic to farmhouse-cozy, high glam to handsome and understated. It's important to identify what suits you best and lean in on the atmosphere you'd love to indulge in.
2. It is supremely organized. There is something so satisfying not just about a tidy closet, but about a mega-organized space that makes it effortless, relaxing, and even exciting to visualize clothes, shoes, jewelry, and accessories—and to get dressed every day. Tricked-out features can come into play here, like drawers that illuminate upon opening, down-lit roods for clothes, and motorized shades. We also love celebrating clients' favored collections. From gorgeously displayed handbags and timeless pieces, to spotlit areas for a jazzy sneaker lineup or a wall of hats, this is where fashion truly takes on the art form that it is.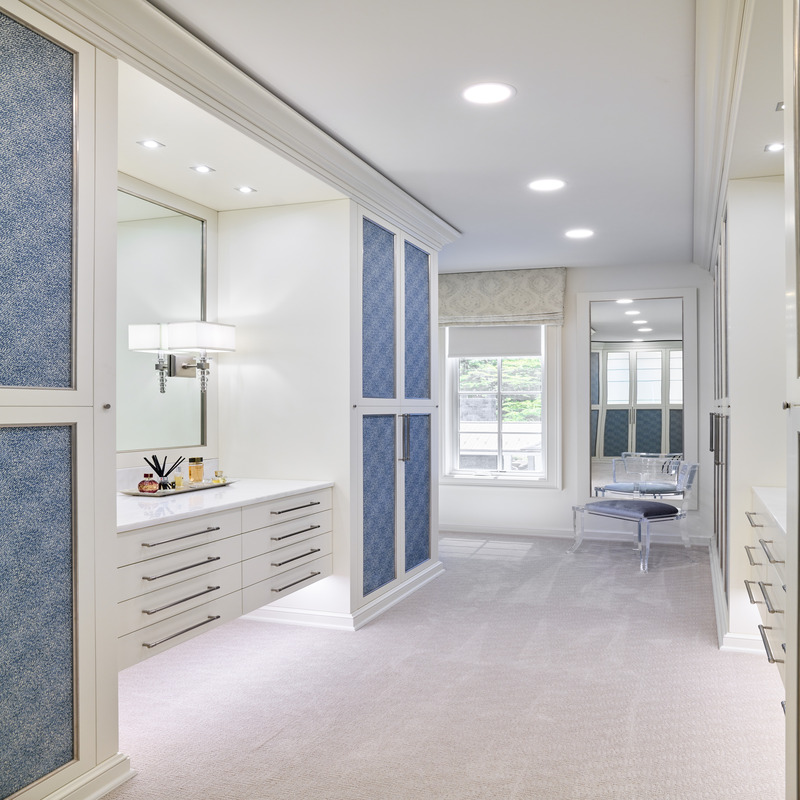 3. It indulges the senses. The visual stimulation of a beautiful display of fashion pieces together with the organizational satisfaction is itself an indulgence, no doubt about it. But we also like to explore other tactile ways to entice the senses in a closet. Perhaps it's soft seating that envelops you when you pause at the beginning or the end of the day. Or maybe there's a richly embossed wallpaper or handsome leather trim that enriches the space. The dressing room can also be a wonderful place to really elevate the role of lighting as jewelry or to display a piece of art that is personally meaningful.
4. It pulls double duty. The perfect dressing room becomes your corner of the world, where you have the opportunity not only get ready, but also to retreat for a moment's rest, meditation, and reflection. That's where cozy seating and functional yet stunning lighting can really come into play. Another idea we've implemented for clients is an additional makeup station—alongside the primary vanity area in their IDH-designed bath. It's a helpful place for last-minute touch-ups—or when a makeup artist is coming over for a special event.
5. Above all else, it's fully customized to you. The perfect dressing room is a highly intimate space that must be custom-tailored and signature to you. It's your little corner of the world—and the most impeccable design will pay attention to every last personalized detail.
—
Craving a way to elevate your get-ready routine and make your closet work better and more beautifully for you? Check out some of our work and let's start the conversation!