The Delish Interior Design "Recipes" of Barry Dixon
I have to start inviting you to these design center things, my peeps. I think many of you would immensely enjoy sneaking into the Marketplace Design Center with me to see an inspiring, informative – or plain-old fun – design presentation by a design somebody "in the design know" – other than "yours bloggly." 🙂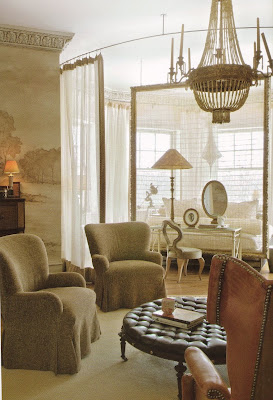 I recently attended a marvelous event featuring famed designer Barry Dixon – a published designer known for his sensitive and thoughtful approach to design and creator of rooms that seep quiet elegance and drama – and always warmth. His refined aesthetic is the thing from which 'excellent' interiors spring. Listed below are a few of what one could call "Barry Dixon Key Ingredients" when it comes to cooking up one of his delectable interiors. Some are provided as direct quotes of his tastier philosophies and in some cases, I summarized.
Barry Dixon's "Yummy Interiors" Recipe:
Preheat Oven to: Great clients with heart and charm. *And budget….looking at these interiors…you'll agree that his clients have a little change in their pockets…that never hurts.
Design Philosophy "Ingredients":
1. "Good design is timeless: A great interior should have 12, 14, 16 year staying power. " (No argument here.)
2. "Create interiors that are reverent to the past but not a slave to it." In other words gals – don't throw every cherished heirloom into a single environment. Rather – sprinkle them in and about various rooms in interesting ways, otherwise things can get stale rather quickly. At the same time – don't throw away a family heirloom until a pro helps you figure out how it might be wonderfully used or re- purposed. I recently witnessed a client's jaw recently drop when she saw how perfectly her husband's "can we throw this out yet" inherited side board looked in their family room. Answer: No…don't throw it out! "Create interiors that are reverent to the past, but not a slave to it." It is the old thing, the odd thing, the unmatched and not-perfectly-new thing that adds character, charm, warmth and interest to your interiors.
3. "The little scapes are just as important as the big scapes in a room." So well put Barry Dixon! AKA….the small arrangements of things on tables and surfaces are oh-so-important and truly support the room in total. Edit and distill (to quote Van Day Treaux) – and I mean it! Do par down, keep what you love, select the most important photos, not every one ever taken. Select the most beautiful and most meaningful accessories – then – if need be – add new meaningful pieces to create marvelous 'table scapes' – as these actually support the total mood created in the room. Game point Barry!
4. "Design to the 5 senses." I like this one Barry D. Use fabrics to absorb sound; select colors that evoke the right feeling, vary touchable surfaces to create interesting contrasts. As an aside…can I share with you an adorable comment from one of my many well-loved clients (I love all of my clients equally…no mother can pick favorites.) This delightful client recently eyed me with a smile during a design meeting and said, "I know how you think now Donna and I know what you're suggesting here …you are trying to add contrasting textures to make things look more interesting…but I need everything to match." Case closed…client always wins since her cravings are more important than the designer's, hands down. Sorry Barry – I hear ya. But the client may not. Still, it is a wise and winning philosophy you and I share. I 'heart' Barry Dixon.
5. "Look through the windows and decide what you want to bring in – and then bring it into the interior." (think color, shape, texture) (Who needs to embellish that perfect little meringue puff?!)
6. "Mix the high, the low and the common." Period. Yes…mix the Baker sofa with a flea market treasure and a Pottery Barn side table. It need not – and ought not – all come from 'a' single resource. (Sorry Ethan Allen groupies….gotta break out a little…)
Bake the above at 350 and garnish as you choose.
A few of Donna's favorite Barry Dixon quick, clever or inexpensive garnishes:
1. Purchase a few clear lidded glass decanters. Fill with colored water of your choosing – appropriate to season and to interior….change as you wish. Pictured here…fun, no?
2. Use a certain antique or item in an unexpected way: ie…a Cambodian drum used as a table.
3. Upholster a chair or bench intended for use in a bathroom . . . with terry cloth. (love that!)
Bon appetite my peeps!