If you love to shop for home furnishings as much as I do – then you must head over to Design Spree at some point. (There's one in Lawrenceville, NJ – check to see if there's one near you.) If you have a hard time focusing – then take your designer with you. It's a real "thrill of the hunt" sort of place – a yummy jumble and hodge-podge haunt. Brave the waters and you'll see furnishings from the higher end, nicely discounted. Caution: You usually need to buy it when you see it – things don't last long there, (though I understand they do now offer custom options on an upholstery line or two.) And to clarify, when I say good value, do know that I do not mean inexpensive – this is not Home Goods. However, the prices within the category are quite good and occasionally you will find 'the deal.'
Here are a few finds from a recent shopping trip I did for wonderful living room I'm working on in Bucks County – we're going for classic with a little provincial twist. The client selected some of the items shown here, and other pieces not shown in today's blog. Still – take a look at the treasures I turned up…
This Delish Mirror & Glass Coffee Table …
OR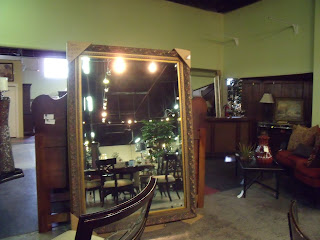 This over sized mirror to create a little extra needed space near the baby grand.(The prices on these over sized mirrors are great!) Perfect mix of gold leaf and aged distressing . . .
OR
This Tortoise Marble Topped Gilded Coffee Table . . .
OR
This sweet little painted chest. Can't you just hear it crying out for the perfect foursome of framed prints hung above it (framed in black) and the perfect candlestick lamp perched upon it? I can. Sorry little dresser, the client didn't pick you, but some other lucky person will. 🙂
Design Spree is certainly hit or miss, but what a delight when the perfect find finds you. Thanks for shopping with me . . . how about we take a break now, stop off for a cup of flavored decaf with a splash o'milk and a biscotti someplace? We'll kick back and enjoy our spoils. . .