Once Upon A Time . . . at Kravet
Gather round for a tiny little story about a 'big' manufacturer named Kravet. Name another "Luxe" manufacturer that would issue a refund to one of my clients – at the showroom's own suggestion no less- as a courtesy for being unexpectedly late on a client's shipment. The delay? On the heels of a fabric back order, (delay #1) – Kravet's Quality Control people failed one of my client's 2 chairs in the quality control test. Called into question was one small (and I do mean small!) area of fabric as it rested on the frame. Not to their standard. It failed. The delay in total resulted in a $350 credit to my client.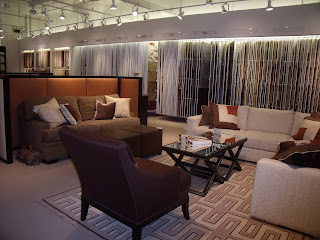 Name another manufacturer in the lower priced market that provides a lifetime warranty on the upholstery frame for the original owner. Deliver excellence, and you can easily afford to offer that type of sweeping – (and unheard of in lower price points) – quality guarantee. That's my Kravet.
Seen here are various shots of the showroom in Philadelphia's Market Place Design Center. One shot shows an area of the showroom with fabrics hanging at the back wall, and a just a few of the limitless upholstery silhouettes. In the next shot, note this darling swivel chair and in particular the dressmaker details on the tufted & skirted bottom. These proceed around the entire chair. . . perfect for furniture that 'floats' in a room thus exposing its back. Incredibly comfortable too.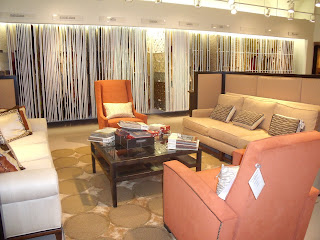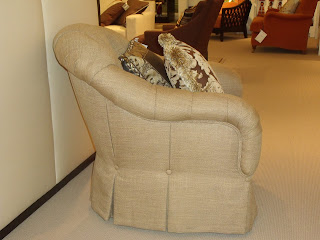 Name another manufacturer – upstairs or downstairs (that's a price point reference….not a Masterpiece Theater Title from PBS…) that makes a sofa that is so comfie that when I have clients sit themselves down on various upper end upholstery manufacturers and then lead them to Kravet . . . when their hind quarters hit the Kravet cushion – the faces light up, the men actually get excited and the phrases "This is the most comfortable thing I've ever sat in. I could live here," come up time and time again. And I always giggle at predictability of it all.
Now let's talk fabric. See this photo? These are 'wall pages' of fabrics for you and I peruse, along with shelves of books and hanging swatches – – -All there for us to chose from when it comes time to select our fabric – that is after we've custom selected the arms, leg, back, etc. that we want on our upholstery. In contrast, there was a different experience to be had when I recently shopped with a one of my favorite clients. (They are all favorites! As my mother always said: "A mother cannot chose favorites." 🙂 She was right.) Anyway, these particular 'favorite' clients wanted to shop in a famous national chain furniture store. When it came to finding a simple celery green fabric in the store's assortment that we could use to pipe a chair for a sun room… we had a choice of exactly how many fabrics? 1. (one). Yes – 1 fabric. Makes sense…if you only offer 200 fabrics in a line and have to divide those amongst 8 key color ways, and divide again amongst solids, prints, plaids, textures, etc….1 solid celery green choice makes sense. And if that one celery green fabric happens to be too gray or too blue – too sorry! There is only 1. Take it or frustrate. Go further down the price point scale then where my client and I were that day and the fabric selections will quickly dwindle in number to only 100, 50 or none, as in "This sofa only comes in this fabric." Now go 'upstairs." Pay a little more than you will at an Ethan to be sure – have a larger selection of silhouettes and customizable silhouette options and sprinkle in crazy comfort…AND…add 4,000 fabrics from which to chose. You'll never miss finding the right shade of anything, or finding the distinctive fabric for an arm chair, the right texture, the perfect signature look you want on 'something.' Not to mention being able to find the right fabrics for the perfect coordinating draperies, pillows, bedding or reupholstery project.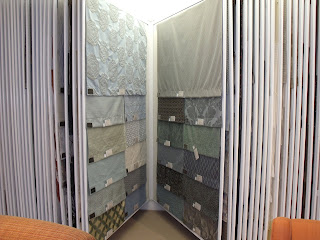 Yes, you will pay more for sweet Kravet than you will at popular national chains. Oh but the value you get in return? By contrast, that $1,000 sofa somebody advertised in a circular last weekend simply will not look too good in 3 years – smooshed, dog eared and tired – and it will feel even worse in 5. Yes, you will pay more for a piece of Kravet, but it not only sits like a dream, but it wears like a tank. From 8-way hand-tied springs, to spring-down blend cushions, to high quality decking to the highest quality, kiln dried grade AA woods for their dowel joined frames. Baby – you get what you pay for. I happen to own some Kravet. I also own some other manufacturers as well, mid-end in my sitting room and office, and lower end in the basement. The Kravet is outperforming them all – looks like new, sits like a dream.
AND. Can we talk about Becky and Heather? Amongst 2 of the cheeriest, warmest, kindest and most helpful peeps one could hope to bump into in a high- end, low-end or any-end showroom or store. Those myths you hear and fear about the "Lux World Showrooms?" Forget it where my Kravet is concerned…they'll even ply you with cookies. 🙂 (Did somebody say cookies??)
Ah Kravet . . . I wish all furniture stories ended as happily as you do!