NY Design Center – Some Yummy Finds for this Phili Designer
In the spirit of "The Grass is Always Greener" – my pal Peg and I decided to pop up to NYC's Design Center on Lexington Avenue to see "What have they got – that we haven't got?" After scouring all 16 floors of the NY Design Center and drawing comparisons to our Design Center here in Philadelphia – Answer: Plenty!
Let me say first – I still do love my design center here in Philadelphia and I do not want to 'break up." However, I would like like to be able to 'date a little' because peeps – there's a lot of wonderful furniture in them-there 'NYC Design Center' hills. Mmm. Mmm. Mmm.
Yes, I do still love my the Marketplace Design Center here in Philadelphia – from the terrific individuals who work there and who take tremendous care of me and my clients – to the fabulous showrooms and lines available there. It is still love. AND – let me add too that the design center in Phili boasts an impressive (and convenient) array of fabric showrooms in addition to wonderful furniture galleries. These were not housed together in the same manner in the NY Design Center. Serious fabric hunting requires a jaunt to the NY D&D building I understand. Still – for this designer, there's something to be said for the time-pressed woman when it comes to one-stop-shopping for great furnishings AND a fantastic assortment of fabric from every great fabric house ranging from from Pindler & Pindler to Robert Allen to Kravet to Croce and Duralee to Shumacher….and so on. However – (fade in Frank Sinatra singing "New York, New York") – NY – my city and home state did have some fairly delish ideas to show on all 16 of the floors in their design center vs. the Philadelphia 4 floors.
The name of the game here peeps is FURNISHINGS! Wow. What a breadth of selection in the NYC Design Center- from mid-century modern, to French provincial, to Swedish antique and just much MORE in the way of traditional and transitional furnishings, by way of case goods, upholstery, office furnishings, hand made fabrics on to to cutting edge design from the world over. So once again, may this transplanted and former NY-er say….Wow. That's my town! (Fade out Frank.). Since this building – like the one in Phili is open only to the design trade . . . I'll let you be a fly on the wall and show you a few yummy finds.
Shown here – a concept seen in various showrooms in both modern and traditional renderings – but this provincial version was most beautifully executed: a 3-striped settee. (This graceful piece was in the Hickory Chair Pearson Showroom)
Take a gander at this coffee table I spied in the Henredon Showroom. We saw a few variations on this theme in a number of showrooms – but this one was particularly well done. This coffee table has 4 ottomans on casters that neatly tuck underneath the table top when not in use. Should one desire a place to rest one's feet – or even should extra seating be desired – out these ottomans easily slide. Don't you love great design?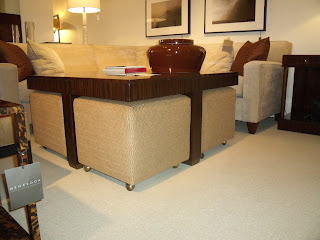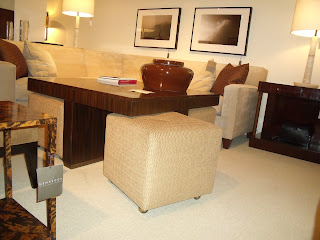 I defy you to have trouble finding the perfect dining chair or side chair when in the Louis J. Solomon showroom. Each one was more beautifully executed than the next. This is just one view along a 40′ wall that greets you as you enter the showroom. My photo does not do justice to the elegant feeling in the showroom in total.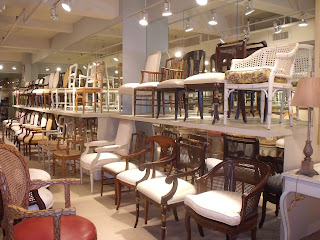 Check out the stunningly well done dressmaker details on this embroidered linen chair in the Hickory Chair Pearson Showroom. Granted, my mother would be asking for a good thorough steam by the upholsterer here on the skirt (hey – Linen will be linen – ) – but still – can you taste the craftsmanship??(shown in 2 views)
I stepped off the elevator in NY looking lost and confused on each of the 16 floors at the NYDC. Regrettably – I have no sense of direction: a fact that applies to me indoors as well. I didn't see one familiar face in the building, nor was I greeted by name as I walked into a showroom. But, I had the pleasure of a personal tour by designer Michael Tavano in his Wow Factory showroom. What a treat – and what a talent. I remember still the incredible dressmaker details on his window treatments; the hand painted silks by an 80-year-old fabric designer to whom he remains loyal and with good reason – and in his showroom there were these unforgettable contemporary roller shades from England woven – with stainless steel threads. Spectacular. Granted, none of these items above had a price tag that would be for the faint of heart – but – a girl can always look and dream, no?
I admit that it was nice to get home to the comfort of familiar surroundings in our 4-story tall Marketplace Design Center after the long day up in NY. Still – while it may be true Dorothy – that there's no place like home – a trip to Oz every now and again – may be just what the design Wizard ordered.
NY Design Center: 200 Lexington Ave, NYC. Open to the design trade.