Meet Our Impeccable Team!
I am so proud of our team at IDH. We're so committed to creating the interiors of our client's dreams — and Jasmine and Eleni work directly with me to ensure that every step of our highly creative and collaborative process is impeccable.
I thought it would be a delight for you to get to know each of them a little better. From Jasmine's least favorite design trend (hint: Hobby Lobby may be a part of it!), to Eleni's obsession with biophilic design (and a very special beach), I think you'll love these little Q&As.
So, without further ado, meet the gals!
Jasmine Lanagan, Associate Designer
Favorite part about working at IDH?
Many people in this industry might say that sourcing fabrics and finishes is their favorite part. And that's absolutely 100% true on my end, too. But if I were to choose something else, I would also say my favorite part about working at IDH is being a part of client presentation meetings.
I love seeing the excitement on our clients' faces when we show them, in real time, all the fabrics and finishes for their residence. They just melt with elation. This is why I love what we do — in creating impeccably designed spaces for clients, we receive joy and fulfillment back from our clients' reactions.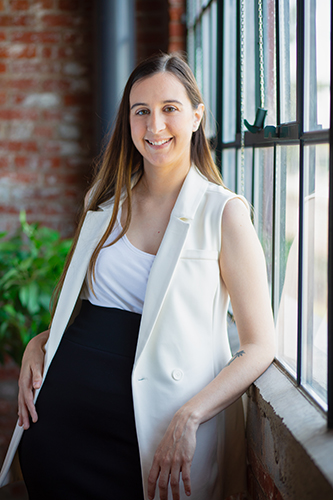 Fun facts?
· I like being outdoors as much as possible.
· I was born and raised in San Diego for 24 years, then drove across the country to the East Coast to pursue my passion for interior design and to be closer to my family.
· In San Diego, my favorite spot for breakfast on Sundays was Caroline's Seaside Café.
· I have a beautiful 2-year-old daughter named Autumn.
· When I lived in SoCal, we would often frequent a campground in Julian, CA, and I miss it dearly.
· Also, the town of Julian has the BEST homemade pies. Change my mind.
Favorite design trend?
I love the use of color. Color trends will always be a forever ebb and flow. There's something quite beautiful about neutral-colored spaces; they feed my soul. But when we use pops of color in client projects, now that's something that truly excites me. There's a reason why my nickname around the office is "The Color Whisperer."
Least favorite design trend?
Who doesn't love Hobby Lobby, but one trend that makes me feel unsettled is the faux farmhouse look of checkerboard black-and-white stuffed bunnies sitting next to small faux plants, all while nestled in a red sleigh.
What does "impeccable" mean to you?
It means to have high value and to be flawless.
Eleni Palamidis, Junior Designer
Favorite part about working at IDH?
The clients! I'm sure this is a cliché thing to say, but the clients we have at IDH truly are some of the best people you will ever meet. They truly appreciate all the time, effort, and dedication it takes us to create their beautiful spaces. The clients make this job not only very fun but extremely rewarding, as well.
Fun facts?
· I am the only one in my immediate family to be born in the United States, my parents along with my brother moved to the U.S. in 1996 from Greece.
· When watching TV or listening to music, the volume must be on an even number. I cannot stand odd numbers; something just feels suspicious about them.
· My absolute favorite beach in the whole world is called The Blue Lagoon in Evia, Greece. It has the best sand and waters and is a hidden gem since it's surrounded by mountains.
Favorite design trend?
Biophilic design. For those who are not familiar with it, this is a concept in which building systems try to increase the occupants' connectivity to the natural environments through natural materials, lighting, ventilation, and more.
The reason it's my favorite trend is because it has been proven to support better cognitive function and physical and mental health — and I truly believe that it helps produce better work productivity and better work processes. Not to mention, it has already been proven to reduce the carbon footprint by 10% in the world.
Least favorite design trend?
All grey interiors! For the last few years, the hottest trend was grey walls, furniture, area rugs, accessories, and more. However, the overuse of the color grey can often look sterile and drab to me. The world is full of colors, and I believe so should our interior spaces!
What does "impeccable" mean to you?
It means to be flawless, faultless, and to be the absolute best. It means that you have an eye for detail and timing and that you carry yourself with your head held high because you know that the job was well done.
Project Manager/Associate Designer
All we can say for now is that at IDH, we recognize that project management is a crucial part of our client's excellent experience with us. Our project manager/associate designer carries responsibility for project scheduling and delivery, in addition to being accomplished in design and AutoCad. Exciting announcement coming soon when we can announce our newest team member!
Want to learn more about our team and how we work to create impeccable spaces for our clients? Contact us today and let's start the conversation.