Easy Holiday Centerpieces (without using flowers!)
I love to dress my table when I'm entertaining. It's one of the most creative and festive feeling things I do whenever I prepare for guests. But somehow, when you add in the word "HOLIDAY" to entertaining, the pressure mounts because the to-do lists are much longer this time of year.
So let me share with you 3 keys concepts for easy-yet-beautiful non-floral centerpiece ideas that don't necessarily require big budgets or trips to the florist. These should get your creative juices flowing.
Your key components are:
1)Things you light.
2)Thing you eat.
3) Things that were once living (plant material…no taxidermy please).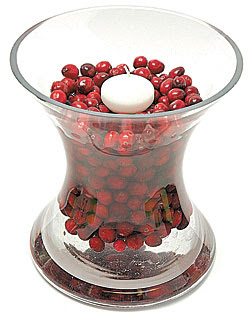 Try adding shiny bright red cranberries to a grouping of candles on a tray – or surround a candle in a hurricane jar or vase as shown.
Speaking of candles with food…
Chocolate brown combined with holiday red, holiday green or new years silver is a winner. Same concept as above – however use coffee beans to add some color and punch to your candles. Tie off with favorite ribbons to enhance your decor.
For maximum impact…less is not more…less is less. For drama and "you only live once" elegance, do more candles than fewer. Wouldn't this be marvelous on a New Year's Eve dinner table?
We've covered things you light and thing you could eat. Let us not forget things that were once alive. Think branches of berries from your garden, ever greens branches are not new news, but always wonderful – and let us not forget the pine cone! Get out the spray paint if you want something a little fun – a silver glitter or as shown here – holiday red. Fill glass bowls, vases or jars with these – or stack them on a beautiful footed dessert plate.
Did somebody say dessert?
Why not make dessert your centerpiece? Try festive cupcakes arranged on a tiered stand, or as shown here, mouthwatering caramel apples mixed with a touch of greenery. Centerpiece and dessert all in one.
Enjoyable Holiday Entertaining = Good Planning + Smart Design + leaving Time and Energy to Enjoy Yourself! Feel free to share your favorite easy, non-floral holiday centerpiece ideas. I love hearing from you!