At Interius – Treasures to be Found If You're Quick.
Listen up peeps. Interius – a great little place at which to turn up an exotic treasure and piece of distinctive character for any room – is moving. Alas you say? Chin up – they're only moving down to the basement of the Marketplace Design Center (2400 Market Street, Philadelphia) FROM – an upper floor at the Marketplace Design Center! That's our good luck – as is the fact that they'd rather not have to carry too much with them for the move. And so, they have marked down all goods by a sweet 50% through the end of April 2010.
Check out this marvelous carved wooden bench . . . it could go traditional, transitional or ethnic in a snap. From a front hall foyer to a breezeway to a conservatory. What type of cushions should we design for the seat once we get it home. (My hind quarters like cushions….) Shall we go textured and earth tone, a little richer with a sultry Jacquard or perhaps some decadent velvet with a contrast cording? Original price for the bench around $2400 – at 50% off – even better. Take a look at what else $1200-ish dollars will buy you at Interius during their moving sale . . .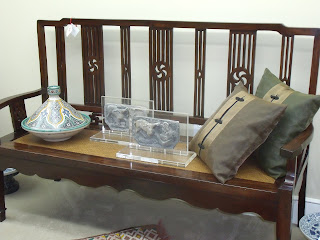 Art Collectors – check out these wonderful hand carved stone sculptural pieces. They are really glorious and their price . . . don't ask me how . . . but each one was about $2400 – discounted 50% makes them even nicer!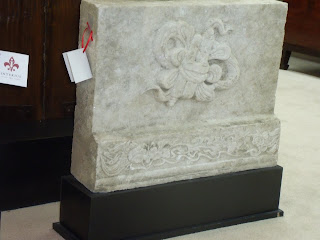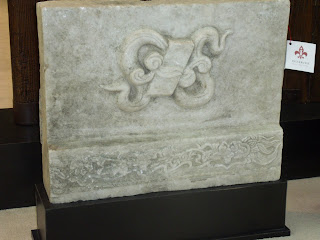 This eye-catching, carved, open-faced display cabinet shown below is really stunning. (The sides are all carved open panel as well.) My photos do not do the piece justice. In an ebonized lacquered finished, the cabinet would be a striking addition to a living room, a study or a guest room….a real conversation piece. So elegant and distinctive. I nearly fell over when I saw the original price tag which was a great deal at "about" $2400 (!) (How is it that everything I liked was originally $2400-ish?) – so at the sale price of $1200 – what a deal of a steal. Wish I had a spot for it in a current project – or in my home. Regrettably, I do not. But maybe you do…in yours! (See detail shot below too!)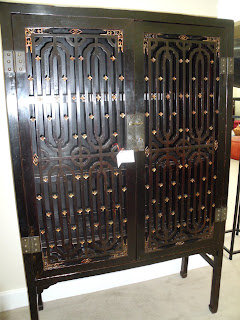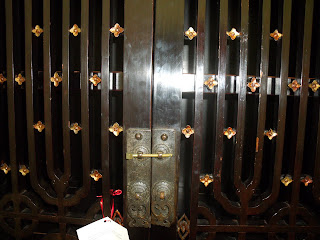 If you make it to Interius – enjoy – and good luck! May the goddess of great finds be with you!